The Secret Side of Social Media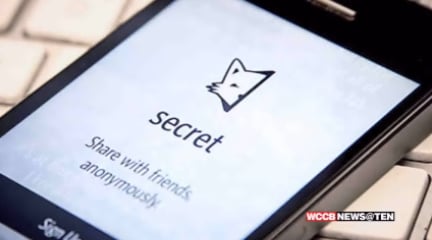 [gtxvideo vid="pnVXvmjt" playlist="" pid="Bbt3TRDe" thumb="http://player.gtxcel.com/thumbs/pnVXvmjt.jpg" vtitle="secret social media"]
CHARLOTTE, NC — Tracking down and cracking cases of anonymous threats made against local schools.  It's the secret side of social media behind a growing number of threats here in our area.
WCCB Charlotte covered threats in December that led to prayer vigils and stepped up patrols at the school.  It all started with this post on the anonymous app Yik Yak: "Ya think this is funny, haha. wait til Monday when I F***** blow your brains out of your head; especially a particular person I'm waiting to see in my sorrows!!!"
CMS Police talked to WCCB's Audrina Bigos about how the anonymous app helped expose the suspect, 22-year-old Patrick Brehm.  "It gave a longitude and latitude of where the post was made from," said CMS Police Chief Randy Hagler.  "They were able to provide us with the GPS coordinates right down to his residence," added CMS Police Detective Kenny Lynch.
Brehm isn't the first person to hide behind Yik Yak.  "Initially it was really problematic because we had no way of knowing who was making these posts," said Myers Park High School Principal Mark Bosco.
At Myers Park High School, Principal Bosco worked with the app to create a geofence safeguard on most of the campus.  A cell tower nearby helps block students from logging onto Yik Yak.  It was put in place after a student posted bullying threats.
"What was crucial for us was catching that one student with that post and being able to levy some consequences and that story getting out that, whoa, you can trace these back," said Bosco.
Lynch, who is on the FBI Cyber Crime task force says tracking them down isn't easy.  "It used to be someone calling in a bomb threat over the phone, but now you've got anonymous apps.  It adds another layer of difficulty," he said.
One reason is the growing number of apps that promise anonymity.  Whisper claims it's the best place to express yourself online.  You type a confession and add a background image.  Anyone using the app can see the post.  Secret is the venting app that accesses the contact list on your phone to create an anonymous feed of your friends.  After School is the newest of the bunch.  The app was temporarily removed from the app store back in December after a number of school shooting threats.  It's now reinstated with a 17+ rating.
CMS monitors these apps daily.  But now, with experience, the school district has a message for anyone who wants to hide behind anonymity.  "They leave a digital footprint wherever they go, and that can be traced," said Bosco.