Charlotte Faces Biggest Budget Shortfall Since Recession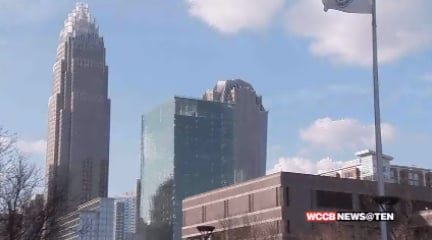 [gtxvideo vid="R2RjXxcI" playlist="" pid="Bbt3TRDe" thumb="http://player.gtxcel.com/thumbs/R2RjXxcI.jpg" vtitle="budget shortfall"]
CHARLOTTE, NC – Charlotte is facing its biggest budget shortfall since the recession: more than $15 million dollars.
A hiring freeze will be the first step to cutting costs. A reduction in city services, higher taxes or even layoffs could be next. 
"We've never faced a loss of revenue that was this large, this late in our budget cycle," said Barnes.
Charlotte's Mayor Dan Clodfelter says the $15.6 million dollar deficit is not about financial mismanagement. He says this is about Mecklenburg County's "inability" to conduct a proper property evaluation.  
Charlotte City Manager Ron Carlee says the city received the latest property tax estimates from the Mecklenburg County Tax Assessor's Office this week showing a decrease in property values for the current fiscal year that ends June 30, 2015.
"We are stunned by it," said Mayor Pro Tem Michael Barnes.
"Stunning that we could be at this late junction," said Councilmen Gregg Phipps. 
The first big hit came when state lawmakers cut $18 million dollars in Business Privilege License Tax Fees over the summer.
The latest hit is a $2 billion dollar decline in Mecklenburg County Property Values, which means the city's projected tax revenues will drop by $9 million dollars in fiscal year 2015 and another $14 million in fiscal year 2016.
"That money is actually tax dollars not coming to the city. That means it's staying in someone's pocket. That pocket is residential, it's commercial," said Councilwoman Vi Lyles.
But without the money, the city is in trouble. 
It's not clear how it will close the budget gap. The first step is a hiring freeze, expected to go into effect this week. 
There are other options on the table including cutting city services and programs, increasing taxes, adding new user fees for facilities and services run by the city and reducing the budget for all departments.
When it comes to a tax hike: "At this point, it's not on the table," said Randy Harrington, the city's Chief Financial Officer.
"If we can delay or cut spending, i prefer to do that rather than cut taxes," said Barnes.
As for layoffs, Carlee says they are a last resort, but they're not out of the question, which leaves more than 7,000 city employees waiting and wondering.
Public safety departments will not be included in the hiring freeze.