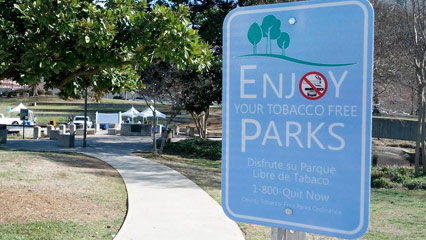 CHARLOTTE, N.C. — A Mecklenburg Board of Health rule is now in effect prohibiting smoking in all government-owned buildings in Mecklenburg County. The rule goes into effect today, March 18th, and will prohibit smoking in buildings in the City of Charlotte, surrounding Mecklenburg County towns, as well as any city, county or town vehicle, grounds, park, greenway or parkland.
A separate County ordinance makes Mecklenburg County parks and buildings on park property tobacco-free, with the exception of some regional parks and County-owned golf courses. The tobacco-free designation includes electronic-cigarettes, smokeless tobacco, water pipes, etc., as well as traditional cigarettes, cigars and pipes.
Mayor and City Council are invited to celebrate the start of a county-wide initiative for better
health.
What: Tobacco-Free Mecklenburg Kick-Off
Where: Marshall Park (800 E. 3rd Street, Charlotte, NC 28202)
Tobacco use is the number one cause of many chronic illnesses, heart disease, stroke and
certain types of cancer. Cutting tobacco use rates will save hundreds of lives and millions of
dollars every year. Those are numbers worth celebrating!