Immigration Task Force Wants City-Issued ID Cards For Immigrants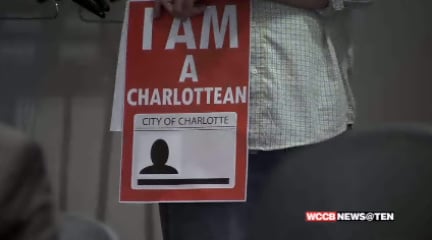 [gtxvideo vid="0UcC5YM0″ playlist="" pid="Bbt3TRDe" thumb="http://player.gtxcel.com/thumbs/0UcC5YM0.jpg" vtitle="immigrant ids"]
 CHARLOTTE, NC – City-issued identification cards for immigrants are one of 27 recommendations before Charlotte City Council. 
Charlotte's Immigration Integration Task Force says the goal is to make Charlotte more immigrant-friendly.
Supporters say immigrants in Charlotte are being arrested for not having identification. Some can't volunteer in their kids' schools without an ID.
Members of the task force told city council on Monday night that a municipal ID would make it easier and safer for immigrants to live in Charlotte.
Some council members say there are consequences to becoming a quote "safe haven" for immigrants.
"My main emphasis is to make sure we make the right distinction between documented and undocumented immigrants. There are federal laws in place. We need to respect them," said Councilman Ed Driggs.
The latest numbers from the U.S. Census Bureau show immigrants make up 15 percent of Charlotte's population–documented and undocumented. That's about 114,000 people. 
"They've been working here for the last 20 years and nobody's asked whether they're documented or undocumented. When the immigrants are building the house or cooking your dinner," said Stefan Latorre, chair of the Immigration Integration Task Force. 
The task force says local immigrants need protection. Right now, an immigrant can be arrested if they're pulled over by police and don't have an ID. Many families don't report crime for the same reason.
"I learned this weekend that both the sheriff and the chief of police are in support of a lot of these measures including the id card," said Councilman David Howard.
The task force made a total of 27 recommendations.
They include creating "International Corridors" that could help draw money and economic development in areas like Central Avenue and South Boulevard with large immigrant populations.
The task force also recommends creating a fair housing or code enforcement team to respond to immigrant housing issues.
The group also wants to work with local schools to create or expand dual-language Pre-K classes. 
Some council members worry about where the money would come from to start the programs and make and distribute ID cards.
"Right now, we're strapped for cash, as you know, in this budget process, so we can't identify any funds at the moment that might be available for this," said Driggs.
Greensboro is the closest city to Charlotte that has a Municipal ID card. 
They are 10 dollars and immigrants can use them to get a library card, pay water bills and police do recognize the ID's.