Judge Calls Parsons 'Sinister', 'Twisted' During Fraud Sentencing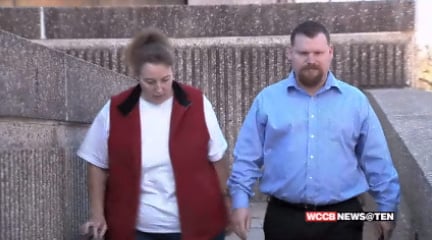 [gtxvideo vid="Xhr0cJTO" playlist="" pid="Bbt3TRDe" thumb="http://player.gtxcel.com/thumbs/Xhr0cJTO.jpg" vtitle="parsons sentencing"]
WINSTON-SALEM, NC — Casey and Sandy Parsons headed to jail before going to federal prison Friday.
The couple's fraud conviction has only ramped up suspicion about their role in the disappearance of their 13-year-old adopted daughter, Erica.
It was apparent when Judge Thomas Schroeder sentenced the pair.
He told Sandy Parsons, "In your twisted mind, you and your wife embarked on a plan to get rid of Erica."
While he acknowledged the crime they were in front of him for was continuing fraud, he said the nature of the offense is much more "sinister." 
He said the fraud was to cover up what they did to their adopted daughter, "…in the dark of night."
Erica's biological mother, Carolyn Parsons spoke after the judge sentenced Casey to 10 years in prison and Sandy to eight years in prison. 
"My daughter had a horrible life. She was treated very badly. I'm very sorry for her," said Carolyn Parsons. "Erica, I love you. I wish I would have known."
Perhaps the most telling fraud conviction against the Parsons: collecting adoption benefits for two years after the 13-year-old vanished in 2011.
Judge Schroeder recounted witness testimony that painted a very graphic picture of Erica's abuse. Witnesses said in February Casey Parsons mangled the little girl's fingers, forced her to eat dog food, locked her in a closet.
The Parsons' oldest son, Jamie Parsons, testified his dad would hit Erica on top of the head with his fist so much that she had a bald spot. 
The judge also addressed the couple's story that Erica went to live with a grandmother who 
investigators found never existed.
"You concocted a lie," said Judge Schroeder. "You continued collecting benefits because you knew if you stopped, someone would look for Erica and that would lead to you."
After the sentence, we asked Casey's mother, Shirley Stone if her daughter ever showed signs of abusive behavior.
"Not to me she didn't," said Stone. "I have three daughters and Casey was absolutely the best one, yes."
The judge told the Parsons, "…only you and the good Lord knows…" what happened to Erica. 
Defense Attorney John Bryson argued the judge should not have considered Erica's disappearance during the fraud sentencing because police have never charged the Parsons for that.
"Absolutely," said Bryson. "If you listen to the court, I think it was clear what he was taking into consideration."
Police haven't charged the Parsons in Erica's disappearance.
Her mother is still searching.
"That does not mean I quit searching. That does not mean I want anybody to give up until there's a body," said Carolyn Parsons. 
On top of the prison sentence Sandy and Casey Parsons have to pay a total of nearly $62,000 restitution and fines.