Edge on Demand: Fined For Driving Too Slow?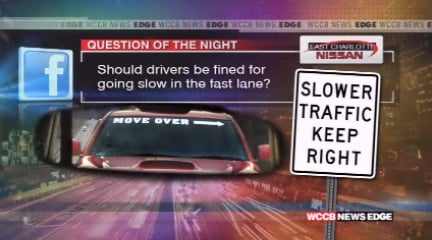 [gtxvideo vid="1IcepM90″ playlist="" pid="Bbt3TRDe" thumb="http://player.gtxcel.com/thumbs/1IcepM90.jpg" vtitle="edge slowpoke"]
There is a place for people who enjoy soaking in the sun and spring as they drive down the open highway… it's called the beeping right lane!  But should drivers be fined for going to slow?  Should it really be the law's way… or the highway?
If you're sightseeing or rubbernecking in the left lane… like Luda says: Move baby, get out the way!  That's the message in a new state bill from a Mecklenburg County lawmaker.
The "Slowpoke Bill" would slap a $200 fine on drivers going too slow.  Republican Senator Jeff Tarte filed the bill last week.  It passed its first reading in the senate on Monday.  If you wanna get technical, the bill says any vehicle "proceeding at less than the legal maximum speed or impeding the steady flow of traffic needs to stay out of the passing lane."  In other words, if you slow down, you better be ready to pay up.
But what do you think?  Should drivers be fined for going too slow in the fast lane?  Or is this going too far?
Plus:
Justin Bieber Gets Burned!
Trevor Noah Already Under Fire
Helen Mirren Joining Fast and Furious!