Slowpoke Drivers Could Get A Ticket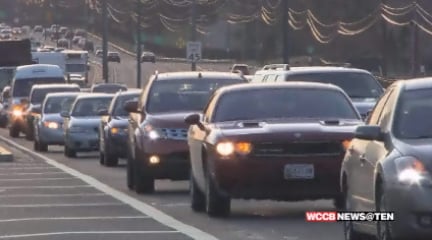 [gtxvideo vid="GnEqYE49″ playlist="" pid="Bbt3TRDe" thumb="http://player.gtxcel.com/thumbs/GnEqYE49.jpg" vtitle="slowpoke bill"]
CHARLOTTE, NC — Driving too slowly could soon cost you.
North Carolina Senator Jeff Tarte is sponsoring a slowpoke bill, that would make it illegal to drive in the passing lane at less than the speed limit. The fine would be $200. 
It is called the fast lane, and if state senator Jeff Tarte has his way, driving too slowly there will be illegal.
"The most frustrating thing that I've ever experienced, maybe it's just my impatience, but nothing kind of irks me more than someone going slow in the left lane," said UNC Charlotte student Samuel Nicholson.
Going too slow in the passing lane is certainly and aggravation, but should it be against the law?
"I've seen people get upset. It's a little annoying, but I don't know if a law needs to be passed," said Northeast Charlotte resident Kim Djali.
"People driving slow, just not, not in that lane anyways," said NODA resident Jeremy Daniels. "It would be a problem. At least you should do 5 or 10 over."
Studies say going 0-5 miles an hour faster than the speed of traffic is safest. Higher and lower speeds are more dangerous, leading to collisions.
The trick for law enforcement when it comes to enforcing these so-called slowpoke laws, like the one on the books in Georgia, is deciding just what constitutes a disruption to the flow if traffic.
Georgia already has a slowpoke law where cars in the left lane must move to the right to allow a faster vehicle by. The law went into effect last summer.
Senator Tarte's proposed bill would have drivers doing less than the speed limit in the passing lane in North Carolina hit with a $200 ticket.
"Me as a college student, I would say that would kind of tough to pay, but I think that it would prevent the issue," said Nicholson.
"I mean all tickets are high," said Daniels. "I got a lot of tickets, so 200 is good."
I reached out to Senator Tarte for a comment on his slowpoke bill, but the senator and his office did not get back to me.