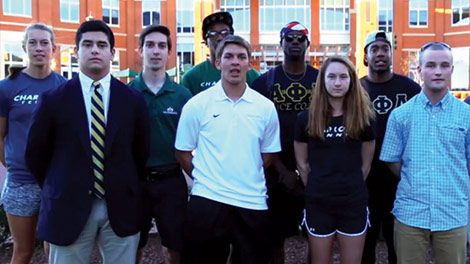 The Charlotte Student-Athlete Advisory Committee's video for "It's On Us" has been selected as the national winner as chosen by the NCAA in a contest sponsored by the NCAA Division I National Student-Athlete Advisory Committee.
View on YouTube (https://youtu.be/dRP_I6ltD0Y)
Osvaldo Hernandez and Daniel Freeman, both 49ers track and field student-athletes, were the driving forces behind the project. Ozzie filmed the video, while Dan wrote the script.
"It's not something that affects just athletics, it affects our community and campus as a whole," Freeman said. "We tried to represent that in our video by including our student body president, Greek life and a variety of other students on campus. No one is above this issue!"
 "It's On Us" is a national campaign to recognize that non-consensual sex is sexual assault, to identify situations in which sexual assault may occur, to intervene in situations where consent has not or cannot be given and to create an environment in which sexual assault is unacceptable and survivors are supported.
"When we began filming the "It's On Us" video, the mood changed and the students realized the importance of having their voices heard on this serious matter," Hernandez said. "This helped create the raw emotion of the subject of sexual assault."
The NCAA received nearly 60 videos with 44 submissions considered for the competition. Six were narrowed down to finalists, where the Charlotte SAAC video was picked. The NCAA also partnered with the White House in regards to this campaign.
The full unveiling of the video will be at Saturday's first men's basketball Final Four game in Indianapolis between Michigan State and Duke in Indianapolis.
Other student-athletes involved included Matt Horkey (baseball), Sarah Adams (volleyball), Jamal Covington (football), David Mayer (men's soccer), Morgan Richards (women's track and field), Blake Brewer (football), Josh Cook (men's tennis), Tyler Baker (women's tennis), K'Vonte Scott (men's track and field), Lisa Grosselius (women's tennis) and Anthony Campbell (men's track and field).
Student Government Association President Steven Serio was also featured in the video in addition to a variety of other students.
Various Charlotte 49ers employees also assisted with the project, including Sarah Hebberd (assistant director of compliance), Curtis Canty(compliance coordinator), Rachel Ramey (assistant academics director and life skills coordinator) and Chris Everett (assistant ticket manager) who serve as SAAC advisors.
"We are extremely proud of our student-athletes and the video that they have created for the "It's On Us" campaign," Hebberd said. "They took the topic very seriously and wanted to produce a video that would help bring more awareness to the issue of sexual assault."
In addition to having its video shown to more than 100,000 fans at the Final Four, Charlotte will receive $5,000 to be used for additional sexual assault prevention efforts on campus.
To learn more about "It's On Us", visit the organization's website HERE.