Child Abuse Victim's Mother: My Son Wants to Know Why!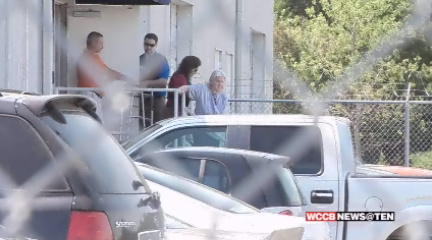 [gtxvideo vid="93W9V3H3″ playlist="" pid="Bbt3TRDe" thumb="http://player.gtxcel.com/thumbs/93W9V3H3.jpg" vtitle="larson free"]
UNION COUNTY, NC — Wanda Sue Larson is spending her first night out of jail after serving 17 months for the brutal child abuse of a boy investigators found chained to her porch with a dead chicken around his neck.
Leaving jail in her probation officer's car, Larson cruised past questions about the child abuse sentence.
At the probation office, the former Department of Social Services Supervisor couldn't deny hearing when WCCB Charlotte asked if she had any words for the public. Although, she stayed silent.
"What about for the children left in your care?"
Larson's silence made her victim's mother fall in tears.
"I want to talk to her, and I want to find out why." cried Maria. "Why she didn't give him back to me."
Maria asked to hide her face and last name to protect her son's identity. 
"He's doing bad. He's in a good place, but he's acting out a lot because she's getting out. He's scared," said Maria. 
Larson spent 17 months in jail after police found the little boy shackled on her porch in November 2013.
Inside the home she shared with her boyfriend, Dorian Harper, investigators say they found a locked room where the boy slept, chained to a railroad tie.
"My son wants to know why!" said Maria. 
Harper is serving 6 to 10 years in prison for abusing the boy. He pleaded guilty to multiple charges including maiming without intent, intentional child abuse and assault with a deadly weapon.
Prosecutors say he cut the boy's face with a knife, shocked him with electrical wires and twisted his pinky with a pair of pliers.
Larson, prosecutors say, didn't report it despite working at DSS. 
The judge sentenced her to 17 months in prison. He allowed her to include her time served since her 2013 arrest in that. She left the Union County jail just after noon Thursday.
"My son don't like to look in the mirror because of the scars. My son asks why," said Maria. "He's angry, and he's portraying the behavior he was at the house, and I'm trying to help him."
He's one of five of Larson's former foster children. She can't contact them while on probation the next five and a half years.
However, Maria wants a face to face meeting
"I want her to know that she didn't win," said Maria. "All these kids are going to be better. My son is going to be okay."