12 Suspected Blood Gang Members Facing Death or Life in Prison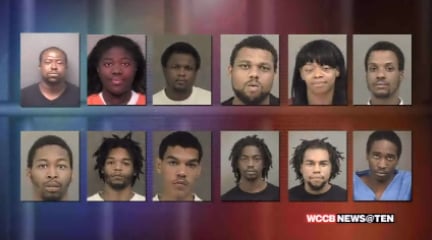 [gtxvideo vid="pgQTwZue" playlist="" pid="Bbt3TRDe" thumb="http://player.gtxcel.com/thumbs/pgQTwZue.jpg" vtitle="bloods"]
CHARLOTTE, NC — The Acting U.S. Attorney vows to prosecute the violent Blood gang to the highest extent Wednesday. 
 Federal prosecutors charged 12 suspected Blood members Wednesday in connection to the murders of a Lake Wylie couple, Debbie and Doug London.
To see our previous report, click here. 
"I want them to hear that the federals, the states and the locals are working together to combat the UBN," said Acting U.S. Attorney Jill Westmoreland Rose. 
Investigators linked the London's death to the Bloods through one man: Jamell Cureton, aka Murda Mel. 
York County Solicitor Kevin Brackett says Cureton coordinated the London's murder from jail.
CMPD arrested Cureton following a robbery at the London family's Mattress Warehouse store in Charlotte on May, 25 2014. 
Doug London shot him during the break in, and investigators say his suspected lookout, Nana Adoma, and his suspected get-away driver, David Fudge, drove him to the hospital.
Investigators say Cureton wanted the only eye witness to the crime dead.
Investigators say he called Malcolm Hartley from jail, ordered him to shoot London and told Briana Johnson to drive him to the couple's lakeside home.
"When you attempt to silence witnesses as this gang did, the response from the criminal justice system will be dramatic," said Brackett.
Cureton is one of 12 gang members charged after an FBI gang raid Wednesday. He's one of the seven who could face the death penalty.
Once deputies discovered the Londons dead in their home, the FBI says agents uncovered a dangerous gang enterprise almost immediately.
"The gang threat across North Carolina is very, very real," said Spc. Agent John Strong.
Indictments reveal the Bloods operate under a common set of rules known as "The 31."
To fuel their enterprise, and send money to those in jail, they buy, sell and trade guns and commit crimes.
The highest ranking suspected member out of the 12 connected to the Londons' murder, investigators say, is Ibn Kornegay of Greenville. 
To see the 51-page indictment, click
here
. 
Investigators say Cureton and another suspected Blood, Akeem McDonald, killed Kwamne Clyborn in 2013 after he pretended to be a Blood member.
The six defendants facing the death penalty due to the London murder are: Jamell Cureton, David Fudge, Randall Hankins, Malcolm Hartley, Briana Johnson and Rahkeem McDonald.
Ahkeem McDonald faces the death penalty related to Clyborne's murder. 
They also face life sentences along with: Nana Adoma, Dawuan Everett, Nehemijel Houston, Ibn Kornegay and Centrilia Leach.
The Federal Court could schedule detention hearings for the 12 suspects as early as next week.