Petraeus Pleads Guilty in Charlotte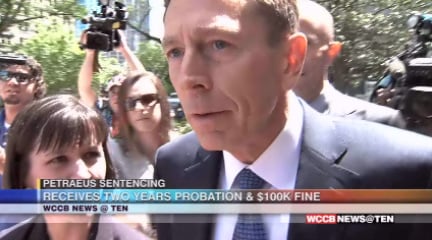 [gtxvideo vid="Te5YgHhr" playlist="" pid="Bbt3TRDe" thumb="http://player.gtxcel.com/thumbs/Te5YgHhr.jpg" vtitle="petraeus plea end"]
 CHARLOTTE, NC — Classified information, a secret mistress and a scandal that brought down a potential Presidential candidate.
General Patreaus shared top secret information with his lover and biographer, Paula Broadwell, triggering events that led to criminal charges and a plea deal with the federal government.
"Today marks the end of a two and a half year ordeal that resulted from mistakes that I made," said former CIA director David Petraeus.
Those mistakes by the former four-star general and CIA director are well documented.
Unauthorized removal and retention of classified materials, in the form of eight secret black books that Petraeus shared with his biographer, and mistress, Paula Broadwell.
The general admitted his guilt in front of US Magistrate Judge David Keesler Thursday.
"I apologize to those closest to me, and to many others, including those with whom I was privileged to serve in government and in the military over the years," said Petraeus.
The deal called for Petraeus to plead guilty on a Class-A misdemeanor, getting him two years probation and a $40,000 fine.
But no felony charge, or prison time, for obstruction of justice for lying to the FBI about what he did.   Instead, Judge Keesler upped the fine to the maximum of $100,000.
Charlotte defense attorney George Laughrun says Petraeus still got a sweet deal.  
"I felt like he thought he had to do a little bit more than what they agreed, because of this serious nature of the charge," said Laughrun. "And he got off really light. I mean that's a sweetheart deal."
Petraeus is still advising the government on the Islamic State. He's also a partner in a private equity firm, reportedly earning a seven figure salary.
His misdemeanor conviction means he can still travel, and still own a gun.
As for his Charlotte-based former mistress, Paula Broadwell wasn't home Thursday, and made no official public comment on the Petraeus sentencing.
"I now look forward to moving on with the next phase of my life, and to continuing to serve our great nation as a private citizen," said Petraeus.
The government has agreed not to bring further charges against Petraeus.
Paula Broadwell has not been charged with any wrongdoing, but could still face punishment for possessing classified information.