Local Vet Speaks Out Against Viral Flag-Stomping Videos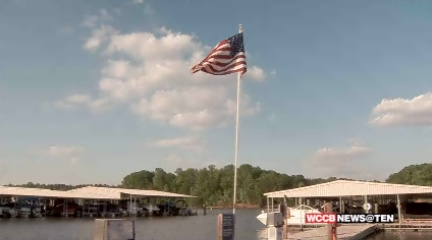 [gtxvideo vid="RG5oyqbA" playlist="" pid="Bbt3TRDe" thumb="http://player.gtxcel.com/thumbs/RG5oyqbA.jpg" vtitle="flag stomping"]
 BELMONT, NC – A local veteran is speaking out against a new online challenge encouraging people to stomp on the American flag. 
An Instagram video shows a woman jumping on an American Flag while yelling "I'm about to do the Eric Sheppard challenge. F*** your flag."
The challenge started as a flag protest on the campus of Valdosta State University, but has now spread across the country.
Another video shows boots stepping on a flag with a woman saying, "I stand here in solidarity of my brother Eric Sheppard."
The people in the videos are referring to a student who is a self-proclaimed terrorist.
"I'm sure the white media will put forth that i am a terrorist and indeed I am. I'm a terrorist toward lies, I'm a terrorist toward liars and those who are wicked. So yes, I am a terrorist toward white people," said Sheppard, in a video on YouTube.
The "Eric Sheppard" challenge is said to protest white supremacy.
"This is not about race. This is about the American flag, period," said Jim Gardner, a Belmont resident.  
Air Force Veteran Jim Gardner calls himself "Jo-nobody" in a video he posted online showing him and a group of vets hanging an American Flag.
In the video, Gardner says "My dad served in World War II and this is the flag that was on his coffin when he died."
That was in 1994. The flag hasn't been out of its case until now, because Jim has it flying at a marina in Belmont to protest the viral videos.
"We defended this country and we would give our lives in a heartbeat for it and I still would, and I be damned if I'm going to let somebody spit and walk on it and not say anything," said Gardner.
Jim hopes his video leads to peaceful protests against desecration of the American flag.
He also hopes lawmakers will step up to change desecration laws.