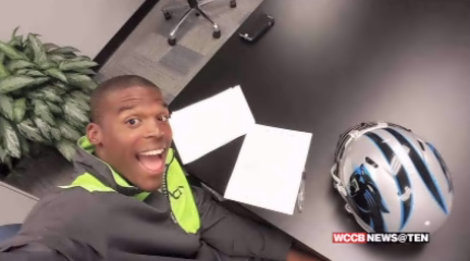 CHARLOTTE, NC (WCCB) — Cam Newton is now a Carolina Panther through the 2020 season.
"What better place than Carolina right now?" Newton said at a press conference on Tuesday.
The Panthers extend the contract of Newton five years. That extension is reportedly worth $103.8 million, which would pay him an average of $20.76 million per year. That figure currently makes him the third highest paid quarterback in the NFL behind Green Bay's Aaron Rodgers and Pittsburgh's Ben Roethlisberger.
"So many times in my life where I questioned,'Is this really what I wanted to do? Am I good enough to play in the NFL and to have anything that I dream of?'" Newton said. "But with hard work and dedication, and a supporting cast, you can get there."
Carolina General Manager Dave Gettleman said the deal took 11 days to complete. Both Gettleman and head coach Ron Rivera pushed all their chips into the middle with Newton, saying they believe he's the guy to take this team to the Super Bowl.
"He's a hard worker," Gettleman said. "It's why we did this deal. We believe he will take us to the promised land."
"He's getting paid this money for what we believe he is," Ron Rivera said.
The team and Cam Newton said that dealing with this contract before the start of training camp was key so that all distractions could be avoided going into the season.
"Nothing about this contract changes my approach to the game," Newton said. "I am still going to be the person that is willing to win at all costs."
The Panthers are in the middle of organized-team-activities (OTAs) which occur throughout the month of June.