NC Magistrates Can Now Opt Out Of Performing Marriages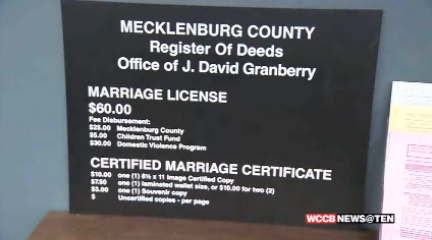 [gtxvideo vid="cnXRwMnZ" playlist="" pid="Bbt3TRDe" thumb="http://player.gtxcel.com/thumbs/cnXRwMnZ.jpg" vtitle="veto override"]
CHARLOTTE, NC — Magistrates in North Carolina can now opt out of performing same-sex marriages because of religious objections. Mecklenburg County's Register of Deeds David Granberry says the new law could have a much broader impact than people realize.
69 Representatives were in favor, 41 not in favor of overriding the Governor's veto to Senate Bill 2. 
"It's discriminatory," said Granberry. "We're saying that our staff can discriminate against different people. Although, to make it look better, they have to totally recuse themselves from that entire job function."
Granberry sent new guidelines to his 38-member staff 
Thursday
. The new law says they are allowed to opt out of issuing marriage licenses just as magistrates are allowed to opt out of performing ceremonies.
If either group opts out, they must issue a letter of notice. They then cannot issue any marriage licenses for six months.
"For smaller counties, it could be very bad," said Granberry. "There are counties that have one assistant, one Register of Deeds and that's it."
That could mean a back log, and could leave all couples waiting.
"It opens up an issue with oaths, laws, government duties, not performing the same services for all citizens," said Granberry. 
He's talking about the same oath Governor Pat McCrory mentioned in his veto letter, stating: "I recognize that for many North Carolinians, including myself, opinions on same-sex marriage come from sincerely held religious beliefs that marriage is between a man and a woman. However, we are a nation and a state of laws. Whether it is the President, Governor, Mayor, a law enforcement officer, or magistrate, no public officials who voluntarily swears to support and defend the Constitution and to discharge all duties of their office should be exempt from upholding that oath; therefore, I veto Senate Bill 2."
The new law doesn't specifically name same-gender couples. It gives the right to deny all marriages based on "…sincerely held religious beliefs…"
"So, it could be an inter-faith or inter-racial couple coming in, the magistrate could say, 'I don't want to perform this marriage,'" said Action Executive Director of American Civil Liberties Union Sarah Preston.
The majority of lawmakers want officials to have that option.
"The reason we need to pass this is to accommodate our public servants in accordance to the law," said Representative Paul Stam, (R) District 37.
If every magistrate or deputy register of deeds opts out in your county, a district judge can perform ceremonies until the State Administration of Courts assigns someone new. 
To read the bill and see how representatives voted, click
here
.