Docs Warn Parents of Unexpected Heat Dangers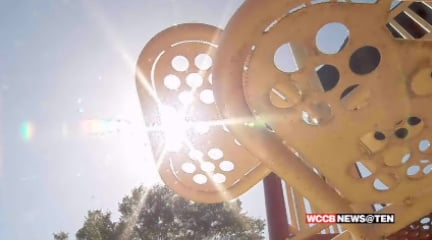 [gtxvideo vid="pC0yVVvU" playlist="" pid="Bbt3TRDe" thumb="http://player.gtxcel.com/thumbs/pC0yVVvU.jpg" vtitle="heat danger"]
CHARLOTTE, NC — Doctors are warning parents of unexpected dangers as the city hits record-breaking temperatures this week. 
"It's really miserable, and for my two-year-old, it's miserable for her as well, because she acts up when it's hot," said Makayla Reid. 
In a matter of hours, Novant Health Pediatrician Dr. Scott Spies says the heat can be deadly for children. Their bodies don't maintain temperatures as well as adults. And they don't always recognize the heat exhaustion signs of nausea, dizziness and headache.
"Heat stroke, which is where you've lost the ability to maintain your temperature and you're getting into fevers seizures things like that, it gets really dangerous really fast," said Dr. Spies.
As the heat peaked at 99 degrees Monday, we tested just how hot it can get for kids.
A temperature gauge measured playground equipment as hot as 147 degrees.
"If you got a child that's not able to jump off that right away, you can easily get into first and second degree burns," said Dr. Spies.
Makayla Reid's car seat buckle was 130 degrees.
Doctors say anything over 120 degrees is extremely dangerous.
For example, the inside of Reid's car was nearly 150 degrees.
Doctors say a child could suffocate in there in less than five minutes.
"Everything is about safety when you have children," said Reid.
Advice that could save your child: cool the car and stay out of the sun. For more advice,
click here.