CLT Paralympian Prepares for Race Despite Prosthetic Theft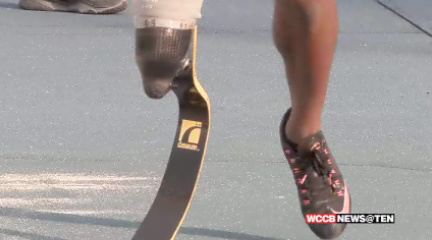 [gtxvideo vid="ccNLK5a7″ playlist="" pid="Bbt3TRDe" thumb="http://player.gtxcel.com/thumbs/ccNLK5a7.jpg" vtitle="paralympian folo"]
CHARLOTTE, NC — Police are still searching for suspects who broke into a Charlotte Paralympian's home and stole his prosthetic running blades.
Paul Peterson is leaving for national championships Thursday morning despite the theft. 
WCCB Charlotte was with him as he took his last run around the track before the race.
"Losing all your things, you know, a week and a half before nationals, like, you don't know what you're going to do," said Peterson. I didn't expect to be competing for nationals."
Hours earlier, he picked up his final blade from Claiborne Prosthetics and Orthodics.
"Feels like I'm ready to run," he said, trying on the new blade.
It was one of the last replacements to the three stolen from the Delta Crossing apartment  where he lived at the time. Whoever broke in also stole his Team USA jackets and his medals. 
"Just a bad feeling," said Peterson.
He started running four years after losing his leg in a motorcycle accident.
The 22-year-old father says he quickly became the fifth fastest in the U.S., working toward the 2016 Paralympics in Brazil.
Since the theft, he's vowed to win more medals. His local Prosthetist team has been building.
"This is something that will be with him forever, and it's more about the long run than the actually 100 meter dash," said Andra Jones, Certified Prosthetist Assistant for Claiborne Prostehtics and Orthotics.
Donors contributed more than $30,000 for the blades he needed, and Peterson says he knows, when you get a second chance, you run to it.
"When I go out there to that race, I'm going to be fighting not only for myself, but all the people that supported me," said Peterson. "All the people that donated and Ossur and Under Armor. Everybody."
To those who didn't, the thief, he has no harsh words. He only pleas for the person to return his medals.
"I stood on the medal stand, and, you know, heard the national anthem with those medals," said Peterson. "Those memories are all I have now."  
Police say if you have any information on this crime, call Crime Stoppers. You can remain anonymous and could get a cash reward.