Warring Opinions Over Confederate Flag in Columbia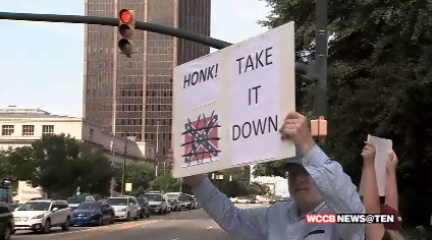 [gtxvideo vid="xl1xL0tp" playlist="" pid="Bbt3TRDe" thumb="http://player.gtxcel.com/thumbs/xl1xL0tp.jpg" vtitle="flag folo"]
 Columbia, SC — As momentum moves to remove the Confederate Battle Flag in front of the State Capitol, two sides with warring opinions gathered on the grounds Tuesday.
"That right there is a constant reminder of slavery," said Derick Alston as he pointed at the flag.
"It's my ancestors, and it stands for state's rights and freedom," said James Green.
"States right to hold slaves. That was what it was about," said Tom Clements. 
Clements says his family were Confederate soldiers. In the wake of Dylann Roof's admitted massacre of nine members of the historically African American church, Emanuel AME Church, in Charleston, Clements was one of hundreds to gather at the capitol building.
"It represents my heritage, absolutely, but it also represents division and racism," said Clements. "So, I think it should come down."
The non-profit Sons of Confederate Soldiers march with a different crowd, asking the public not to connect their flag to roof or racism.
"How can we not connect that?" said Alton.
Those who want to keep the flag flying say, "That monument was built after the war because half the men died to protect Columbia from being burnt," said Stewart.
The house and senate voted to debate the issue this Summer.
"I'm sitting up here, standing here just looking at it, and wondering will it really come down?" said Tanjia King. "Wow! It's going to be a relief."
Many wonder if compromise between two interpretations is possible.
"How can we take those memories of pain and suffering and also of heroine and heroes and forge a new memory that can be a legacy?" said Johnny Hill, PhD from Claflin University.