Local Religious Leaders Weigh In On SUPCO Gay Marriage Decision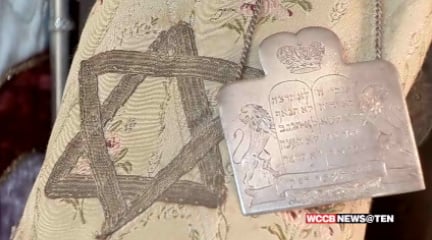 [gtxvideo vid="Ne7CgQrX" playlist="" pid="Bbt3TRDe" thumb="http://player.gtxcel.com/thumbs/Ne7CgQrX.jpg" vtitle="religious leaders"]
CHARLOTTE, NC — The Supreme Court's decision has unleashed an outpouring of support across the country, including members of faith here in Charlotte who applaud the decision. But not everyone's pleased. We spoke to clergy members on both sides of this hot topic.
Charlotte's first female Rabbi, Judy Schindler of Temple Beth El, who's been performing gay marriages for over 12 years, is celebrating the court's decision.
"I think that we see couples who have been married for decades with strong, loving marriages, and to deny them their legal rights in my mind is denying their God-given rights," said Schindler.
Rev. Dr. Chris Ayers of Wedgewood Church in Charlotte has also been performing same- sex marriages in his church for 12 years.
"God has blessed and celebrated the marriages of sexual orientation, and it is absolutely wonderful now that the United States is also doing that," he said.
But Dr. Mark Harris, Pastor of First Baptist Church in Charlotte, is disappointed and concerned that the Supreme Court is saying to states: "we don't care what you think or how you vote".
"I don't think anyone believes that a homosexual shouldn't have the choice to be in any relationship they want to be in and live however they want to live, but to to take it to a level of redefining marriage is where that issue crosses the line," said Dr. Harris.
"Te President of the Billy Graham Evangelical Association, Franklin Graham, agrees with Harris, saying in a Facebook quote: 'With all due respect to the court, it did not define marriage, and therefore is not entitled to re-define it. Long before our government came into existence, marriage was created by the One who created man and woman and His decisions are not subject to review or revision by any man-made court." 
And in response to President Obama's tweet with the hashtag #lovewins, Franklin Graham tweeted "Our country is the loser today."