Former ADA Shoots Man Police Say Was Firing At Grandmother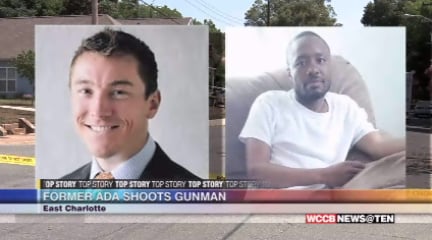 [gtxvideo vid="jGPdV3Fj" playlist="" pid="Bbt3TRDe" thumb="http://player.gtxcel.com/thumbs/jGPdV3Fj.jpg" vtitle="belmont shooting"]
CHARLOTTE, NC — A former Mecklenburg County Assistant District Attorney is now involved in a criminal investigation himself after police say he shot and killed a man in Charlotte's Belmont neighborhood.
Police say Degarrian Coleman was shooting at his grandmother, Patricia Crawford when Steve Sellers stepped in. 
Bullet holes were sprayed across neighboring homes Tuesday morning. 
Sellers' attorney, George Laughrun, says the former ADA was getting ready for work when he heard a woman screaming. He grabbed his gun and came outside where he shot the suspected gunman. 
Crawford survived with a gunshot wound to her leg. Coleman died.
 "That man didn't have to kill him like that, and I understand he felt like he was going to help that lady, but he could have shot him in a defense tactic," said Coleman's close friend who asked we not release her identity. 
She says he struggled with PTSD.
Investigators say he shot his grandmother in the leg while she drove down Pegram Street.
"He was having an episode!" said his friend.
When the grandmother wrecked, she ran into Sellers' yard. Police say her grandson kept shooting. Witnesses say Sellers came out with a gun and fired a warning shot and eventually killed Coleman. 
"Saved the grandmother's life. So how much more can you do?" said Samuel Hollis. 
Sellers' attorney says the shooting is regrettable, but justified. 
"He asked the person to drop the weapon. The person, not only didn't drop the firearm, he actually pointed it at Steve, and then Steve fired," said Laughrun. "So, he was not only at risk for himself, but was trying to save someone he didn't even know."
Records show Coleman was a convicted felon. By law, he shouldn't have had a gun.
His mother was too shaken to talk on camera, but says she doesn't blame Sellers, because he saved her mother's life. 
However, Coleman's friend is adamant he was no longer a threat, claiming Sellers shot him several times. Police won't confirm the number of shots at this point in the investigation.
"He could have just shot him that one time and let the police come and handle it, whatever it was going to be," said the friend.
A former District Attorney from Union County tells WCCB Charlotte Sellers was within his rights when he fired at Coleman, because it happened during the commission of a felony and Sellers says he feared for his life.
The Mecklenburg County District Attorney is reviewing the case and will decide whether Sellers will face charges.