Injured Grandmother Speaks After Double Shooting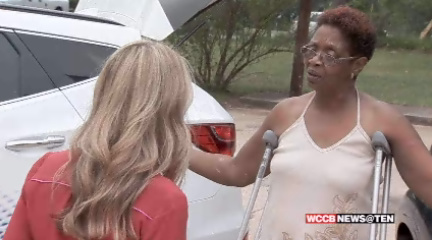 [gtxvideo vid="MWYGCcne" playlist="" pid="Bbt3TRDe" thumb="http://player.gtxcel.com/thumbs/MWYGCcne.jpg" vtitle="grandma speaks"]
CHARLOTTE, NC — A woman walks WCCB Charlotte through the moments her grandson started shooting at her until a witness stepped in, killing him. 
Patricia Crawford says it was a shootout that may have saved her life. It left her with a gunshot to the leg, her grandson, Degarrian Coleman dead, and the witness who shot him under investigation. 
"The only thing I hate is that he killed my grandson when he didn't have to. But I don't have any remorse because he may have saved my life," said Crawford. "Because the state of mind my grandson was in, he could have hurt me."
She says she was taking Coleman to a mental health facility Tuesday morning when he got out of the car and picked up a black bag near Pegram Street.
Inside, she says, was a gun.  
She says he pointed it at her, asking where was his grandmother.
"I knew he was sick," said Crawford. "I jumped out the car. I started running. Then, he jumped out the car."
She says Coleman began firing shots. One hit her leg. She hid in Steve Sellers' yard. 
The former Mecklenburg County Assistant District Attorney told police he heard screams, came outside with his rifle and fired at Coleman.  
"When I looked up behind the car, you standing over him pointing to his head," said Crawford. 
She says she ran over to Sellers and told him not to shoot.
"I said don't shoot him no more. He's sick. I was trying to take him to mental health. He looked at my grandson and me and walked away."
Sellers' attorney George Laughrun says Sellers was protecting himself and a stranger.
"He asked the person to drop the weapon," said Laughrun. "The person not only didn't drop the firearm, he actually pointed it at Steve, and then Steve fired." 
"He could have saved my life. Probably did, you know? But my thing is, if you shoot somebody one time and they go down, you don't have to keep shooting," said Crawford.  
Police have not said how many times or where Sellers shot Coleman.
The district attorney will decide whether the former ADA will face charges.