The Watch with Will Kennedy: CMPD's Cops and Barbers Goes National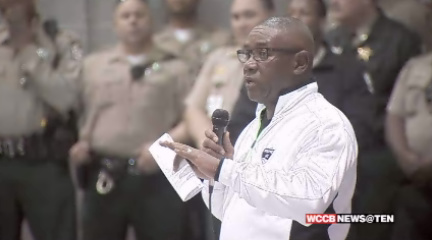 [gtxvideo vid="bcroUrdN" playlist="" pid="Bbt3TRDe" thumb="http://player.gtxcel.com/thumbs/bcroUrdN.jpg" vtitle="cops barbers national"]
CHARLOTTE, NC — With the trial of officer Wes Kerrick approaching, CMPD, along with the North Carolina Local Barbers Association, created a program called Cops and Barbers,  hoping to open real dialogue between police and the African-American community. The initiative caught the attention of President Obama, who invited Cops and Barbers to the White House Thursday.
CMPD detective Gary McFadden and Charlotte barber Shaun Corbett were part of a Charlotte delegation in Washington Thursday, taking part in the President's 21st Century Policing Task Force, trying to provide solutions to help law enforcement agencies and communities strengthen trust and collaboration.
"Once in a lifetime opportunity," says Corbett. "But the bigger thing is, man, it just gives an opportunity for people to understand the program and what we got going on here in Charlotte."
"We were one of, one of ten cities having initiatives that were a little bit different from other cities," says McFadden. "And they want to look at it some more, and we discuss it with other people that are doing, also, great things in their cities. And we're just going to have, you know, a great conversation."
The Cops and Barbers program is the brainchild of recently retired CMPD chief Rodney Monroe and his barber.
The initiative is set up to work in three stages.  First, a series of town hall meetings to open up real conversation.
"Just allow people to get an opportunity to say what they feel," says Corbett. "Get it off of their chest. And the second component is going to be the community engagement."
That engagement will bring CMPD officers to more community events, building stronger bonds with the people they serve.
"The third component is the education part," says Corbett. "Because this whole thing was created to educate our youth."
The end goal is to make sure we do not have scenes like the ones that played out in Ferguson or Baltimore here in the QC.
The reaction to Cops and Barbers has been positive. The turnout tremendous.
"We're still trying to make Cops and Barbers one of the best things that ever happened in Charlotte," says McFadden. "So it's taken off faster than we expected it to, but you know we want to be right there when it continues to take off."
The next Cops and Barbers town hall event is scheduled for Sunday, August 9th at the Albemarle Rec Center in East Charlotte.