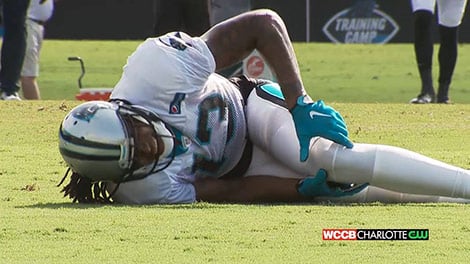 SPARTANBURG, SC — The Panthers start a week with the Miami Dolphins on a sour note.  It's the news you never want to hear.  Kelvin Benjamin tore his ACL in practice Wednesday morning.  He is out for the season.
No contact, but one misstep, and Carolina's top wide receiver grabs his left knee in pain.  You could hear Kelvin Benjamin scream out in pain.  It was one of two knee injuries happening at Wednesday's joint practice: the other was a Dolphins DB.   But with Benji going off on a cart, the team has to begin to think of time without him.
"He just went to plant and make a swim move, and without any contact went down," said head coach Ron Rivera.  "It was unfortunate; it's one of those things that could have happened in any drill.  I don't think it's going to change the complexion of what we're going to do and how we are going to do it.  That's the thing, it means young guys like Devin Funchess are going to get the opportunity to step up."
QB Cam Newton and head coach Ron Rivera consoled Benjamin on the field.  WR Ted Ginn says he's taking more of a leadership role and gave Kelvin Benjamin words of encouragement after practice.
"I talked to him, told him to keep his head up," said Ginn.  "I'm the older guy in the room now.  I gave him my condolences, told him that he has a brother behind him."
"Losing a guy like KB, I feel there's guys that can step up into that role and make things happen," said defensive back Josh Norman.
Fellow wideout Jerrico Cotchery called Benjamin the lead dog, saying he saw Kelvin as focused, locked in and ready to go this year.