Kerrick Trial: Jurors Continue Asking for More Evidence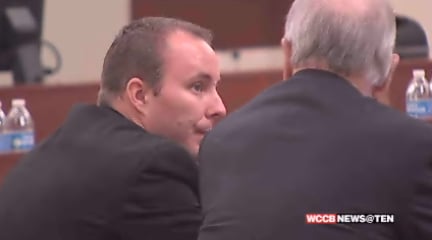 CHARLOTTE, N.C.  — Jurors will deliberate for a fourth day Friday in the voluntary manslaughter trial of Charlotte-Mecklenburg Police Officer Wes Kerrick.
Day three of deliberations began with jurors immediately requesting five pieces of evidence: an investigator's crime scene evidence report, pictures of Officer Kerrick's injuries, the essay he wrote when applying to the police academy, transcript of his former Lieutenants' testimony, and they asked if Jonathan Ferrell was left or right handed.
"These are people that are focusing on the details," said WCCB Charlotte Legal Contributor John Snyder. "It shows, on their part, conscientiousness. They want to get it right."
Judge Robert Ervin only gave jurors photos of Kerrick's injuries. The other items did not come up during trial so the judge said the jurors can't use that information.
"The court will leave it to your all's recollection of the evidence, as to what the evidence indicated about that subject," Judge Ervin explained.
The judge also told the jury they'd have to go off memory when it comes to that Lieutenant's testimony. Lt. Eric Brady was Officer Kerrick's former supervisor who he says told him in 2012 to pull a gun when another officer has pulled his taser.
"One of you needs to also be there with lethal force in the event it turns into a lethal situation," said Lt. Brady.
However, CMPD Capt. Mike Campagna testified that is against policy. Jurors seemed frustrated when the judge denied the requests.
"If I'm the defense lawyer, I'm starting to think, 'Hmm, that's reasonable doubt', because they can't agree to what somebody said, therefore, they can't make up their mind one way or anything," said Snyder.
Jurors came to the judge before 

5:00 pm

 and said they were ready to leave for the day Thursday.
We will livestream their verdict on WCCBCharlotte.com.