The Edgitators: Are You Concerned About Workplace Violence?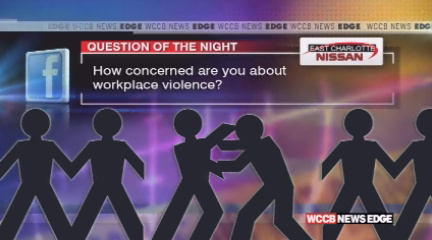 A gunman ambushes two television journalists, killing them as cameras rolled.  That gunman is now dead, along with two of his victims: WDBJ reporter Alison Parker and cameraman Adam Ward.
Police say the killer, Vester Flanagan, once worked at the same station in Roanoake, Virginia, but had been fired two years ago.  Flanagan apparently shot himself as police closed in on him along a Virginia highway, and later died.  About two hours after the shooting, Flanagan faxed 23 pages to ABC News.
Inside, Flanagan says he was bullied and discriminated against at WDBJ because he was gay and black.  He says he was inspired to attack after the Charleston church shooting, and that's when he bought the gun.  Flanagan says he was a human powder keg, just waiting to go "BOOM."
According to the Occupational Health and Safety Administration, there were nearly 400 workplace homicides in 2013.  Four fifths of the homicide victims died from gunshots.  Overall, roughly 2 million workers a year are affected by some form of workplace violence, including verbal abuse, physical assaults and homicide.
That brings us to our Question of the Night: How concerned are you about workplace violence?  The Edgitators weigh in…