Dog Raffle Controversy: Sheriff's Office Looks for Home for Dog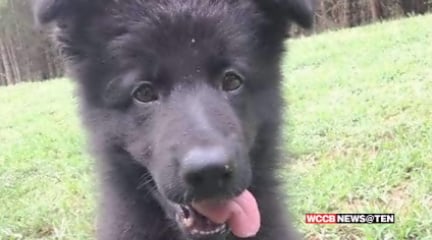 CLEVELAND COUNTY, NC — After controversy and criticism, the Cleveland County Sheriff's Office has canceled its annual puppy raffle.
More than 1,000 people commented on the advertisement on Facebook.
Most were angry about the idea of giving a dog to someone who bought a $1 ticket at the county fair. 
The puppy that was up for grabs is a German Shepherd.
Shannon Branham thought it was a joke.
"Especially with them having K-9 units," said Branham. "Those guys know what it takes to handle and train those dogs." 
Branham is a vet tech and has fostered dogs for 15 years.
She immediately became one of the hundreds who wrote the sheriff's office.
"When someone plans to get a dog, I think that whether purchasing, adoption, whatever, they make some sort of emotional and financial commitment to make that successful. A raffle prize is a little different," said Branham.
Others wrote, "How do you know that you are not putting this puppy in the hands of a dog fighter?!?!?!"
WCCB Charlotte called the sheriff's office. A deputy said the raffle is an 18-year tradition to raise money for their dogs. A breeder donates the dog.
Usually, winners take a cash prize instead of the dog, which then goes to a deputy.
Otherwise, the sheriff's office works with animal control to make sure the winner isn't on the "Do Not Adopt" list.
It's not enough screening for critics.
"If they follow the progress for the rest of its life and were willing to take the financial responsibility for the dog back down the road, maybe," said Branham.
Backlash led to cancellation. That led to more questions about the dog's future.
The department tells WCCB Charlotte a reputable animal rescue group will find the dog a home.
"I absolutely support the sheriff's office," said Branham. "[I'd] be happy to make a small financial contribution in place of some raffle tickets." 
The sheriff's office will be looking into other fund raising projects to help support the K-9 program.
If you purchased tickets, the Cleveland County Sheriff's Office will contact you to refund.
If you would like to make a donation to the K-9 program, you can contact Amy Miller at Millerame@gmail.com.