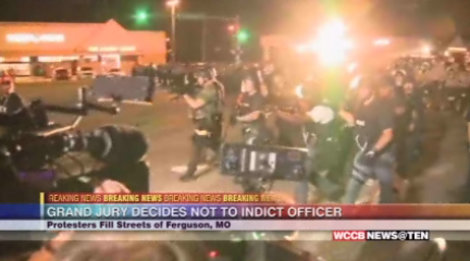 FERGUSON, MO — Months of tension and unrest came to a head Monday night in Ferguson, Missouri.
 Protesters swarmed the streets as the Grand Jury in the Ferguson shooting investigation announced it had decided not to indict Officer Darren Wilson in the death of Michael Brown.
The special prosecutor says the Grand Jury heard 70 hours of testimony over 25 separate days.  In the end, the 12-memeber panel decided there was not enough evidence to file criminal charges.
Before the announcement, crowds were chanting "Indict that cop," and "No justice, no peace".  The tension between two sides in the community are perhaps growing stronger with this decision.  Now leaders are bracing; they sent messages to the public all day Monday.
"They determined that no probable cause exists to file any charge against Officer Wilson and returned a 'no true' bill on each of the five indictments," said special prosecutor Bob McCullough.
"Together, we are all focused on making sure the necessary resources are at hand to protect lives, protect property, and protect free speech," said Missouri Governor Jay Nixon (D).
A "Hands Up for Justice" rally is planned for Tuesday night at 7:30pm in front of the Federal Courthouse in Uptown Charlotte.  The City sent WCCB a statement Monday night, saying Charlotte is working with local organizers to ensure people can lawfully assemble and freely express themselves in a safe and peaceful manner.