Clark Talks "State of Our Schools"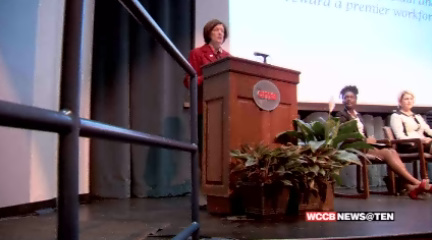 [gtxvideo vid="gINZytHQ" playlist="" pid="Bbt3TRDe" thumb="http://player.gtxcel.com/thumbs/gINZytHQ.jpg" vtitle="state of schools"]
 CHARLOTTE, NC — It's been a difficult stretch for Charlotte-Mecklenburg Schools, trying to bounce back from the sudden resignation of former superintendent Heath Morrison.
CMS now has a new superintendent in place, and she is laying out her plan to keep the district moving forward.
"We've got to have pride in this school system," said CMS Superintendent Ann Clark. "We've got to build that pride. We've got to restore that trust from our community."
Newly appointed superintendent Ann Clark had several points to deliver Thursday morning with her first "State of Our Schools" speech. The CMS board, employees and the public were listening, and liking what they heard.
"To have that stability, I think it restores confidence back into CMS, and lets people know that we're still about the work of every child, every day, for a better tomorrow," said CMS teacher James Ford.
"It was inspiring. It was motivational. It was strategic," said Yolonda Holmes, who has two children attending CMS schools. "It allowed us to understand and see where we're going as a district. And it gives us the process and procedure to go along."
Clark's speech followed the strategic plan laid out in 2013 under former superintendent Heath Morrison, focusing on driving academic success and supporting staff with help from the community.
"It's a 24-hour day," said Clark. "We have these students seven and a half. So the math simply requires that there be partnerships."
CMS goals include improving test scores, and retaining teachers through improved pay.
And Clark will hold schools, and the community, accountable when the state releases school grades next week.
"We have schools that get Ds or Fs, then what are we going to do about that?" said Clark. "Not just CMS, but what are we, this community, going to do about the fact that we have schools that are failing? And how are we going to get all schools to that A level?"
Clark has agreed to serve until July of 2016, or until the board finds a permanent superintendent.   The CMS Board will hold a meeting February 19 to discuss the superintendent search.