Gang Link Prompts Questions in Revenge Killing of Local Couple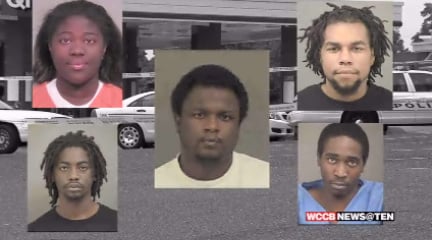 [gtxvideo vid="PZRSZbHd" playlist="" pid="Bbt3TRDe" thumb="http://player.gtxcel.com/thumbs/PZRSZbHd.jpg" vtitle="gangs folo – selection"]
CLOVER, S.C. – Doug and Debbie London were gunned down in their own Lake Wylie home five months after being robbed at gunpoint in their south Charlotte business. 
Two crimes, two sets of suspects, one with known high-ranking ties to the Bloods. It remains to be seen how the five suspects are all connected. The murders happened in York County. But the original crime, the robbery, was in Mecklenburg County. The suspect with gang ties, David Lee Fudge, got probation for the robbery. 
"What we as citizens have gotta do is talk to the people that represent us and make sure that those people understand we're willing to do what is takes to make sure cases get prosecuted at the Mecklenburg court house," says Tommy Pope. He's the Speaker Pro Tem for the South Carolina House of Representatives. 
Pope says, "We can't afford to lose. You don't wanna escalate force, but at the end of the day, if we ever let the bad guys seek retribution and that's okay, or intimidate witnesses and that's okay, if we let those things occur, then we've lost the rule of law." 
Money is how the rule of law is maintained. "One of the biggest problems that Mecklenburg has is their justice system is not funded adequately, it really isn't. I'm familiar with the funding levels they have and public safety is failing directly because of the failure to fund the criminal justice system," says York and Union County Solicitor Kevin Brackett.
Brackett says one way to better fund the Mecklenburg County criminal justice system is with more prosecutors. While York has 26 to serve 250,000 people, Mecklenburg only has about 75 to serve one million. Brackett says Meck could use four times as many. 
While Mecklenburg needs money, South Carolina needs improvement too. For example, Brackett wants investigative grand juries, like the feds have, to compel testimony from unwilling witnesses. 
Crime, both men agree, will never be eliminated. But justice will tamp it down. Pope says, "Arresting, to a lot of these criminals, that's just a rite of passage. The convictions are what make the difference." 
The feds are involved in the London's case and one of the suspects is still fighting extradition, plus, there are other elements that make it hard to tell when it will go to trial. 
But Brackett says 93 percent of all of York County's cases are handled within a year, sometimes as little as six months.