Presidential Visit Brings Traffic Trouble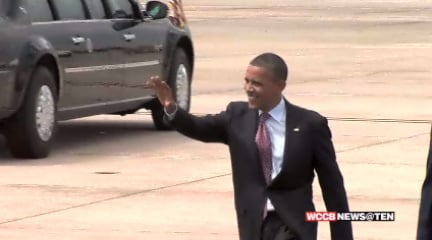 [gtxvideo vid="BRR2LFmW" playlist="" pid="Bbt3TRDe" thumb="http://player.gtxcel.com/thumbs/BRR2LFmW.jpg" vtitle="obama visit"]
 CHARLOTTE, NC — Charlotte rush hour traffic is bad enough, but throw a Presidential visit into the mix, and you've got another level.
President Barack Obama will be in Uptown Wednesday afternoon, and his visit could mean your commute will take even longer.
"We found out, basically over the weekend, and began making arrangements as soon as we got the call," says ImaginOn Library Manager Jason Hyatt.
A little paint and a lot of quick planning.
The President and Air Force One will be flying into Charlotte-Douglas Wednesday afternoon. The motorcade then travels to Uptown for a town hall meeting at the ImaginOn library, talking about economic and family issues.
"To have him connecting with the library," says Jimmeka Anderson, who works in Uptown, "this library right here that provides programs and resources to children in the community. I think it's sending a positive message."
We don't know exactly what time the President will be leaving the ImaginOn library, but his itinerary does have him departing during the beginning of rush hour.
The President will be heading back to the airport after the event, and CMPD is working with the Secret Service to make sure all bases are covered.   
"We have enough visits where we really do try to make sure that we operate a real tight, efficient schedule," says CMPD Deputy Chief Jeff Estes. "So that people aren't unduly interrupted."
The Secret Service doesn't give out exact details of times and routes. Drivers traveling in Uptown, on The Loop and on I-77 need to be prepared to wait. 
"I expect there to be a lot of traffic," says Anderson. "I expect that it's going to take me a long time to get here."
"We just are telling any staff that will be here to be patient, and prepare for a longer commute and have a great book on CD or something the listen to," says Hyatt.
"Encourage everyone to make sure that they plan for some extra time during the early afternoon tomorrow, and exercise patience," says Deputy Chief Estes.