Contaminated Wells Near Coal Ash Ponds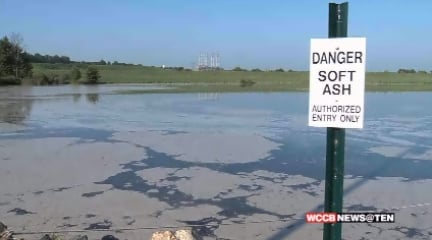 [gtxvideo vid="q6Dx9h2T" playlist="" pid="Bbt3TRDe" thumb="http://player.gtxcel.com/thumbs/q6Dx9h2T.jpg" vtitle="ash wells"]
 BELMONT, NC — People living near Duke Energy coal ash ponds in Catawba, Gaston and Rowan Counties are being warned not to drink or cook with their well water.
The state says the wells are contaminated. Residents say those wells are their only source for water.
"There are dozens of people around the Charlotte area who have wells that have been contaminated by these coal ash sites," says Sam Perkins with the Catawba Riverkeeper Foundation.
Tests of wells within 1,000 feet of coal ash ponds were done under a law passed after last year's spill into the Dan River.
Perkins says state testing shows the wells have high levels of toxic heavy metals like Vanadium.
Duke says that and other chemicals at issue could be naturally occurring in local soils.
Families that live near the Duke Energy Allen Steam Plant in Belmont have been told not to drink or cook with their well water. What they haven't been told is what they're supposed to do if they don't have access to municipal water.
"I bathe in it," says Belmont resident Bob Wyatt. "Cook with it. Just do laundry."
"If you can't drink it, you probably shouldn't be bathing in it," says lifelong Belmont resident Cynthia London. "That's what I think."
The state is sending 53 letters to residents in Belmont, 19 letters to neighbors of Duke's Buck Plant near Salisbury and 19 families living near the Marshall Plant in Catawba County.
"We don't have city water, which I don't want city water, but I may have no choice eventually," says London. "But you know I don't want to have to go spend a bunch of money on water at the grocery store either."
"Have to buy it," says Wyatt. "Have to go out and buy it, and pay high dollar for it. And I don't see any other way of getting any in."
Some residents living near the Duke plants are contacting attorneys, ready to put pressure on both Duke Energy and the state.
"We know what the solution is, and it is to move this material away from the water, away from drinking water wells and get it in a lined, modern, well-monitored storage," says Perkins.
State environmental officials say that 87 private wells near eight Duke plants showed results that failed to meet state groundwater standards.