NC Lawmakers Won't Debate Religious Freedom Bill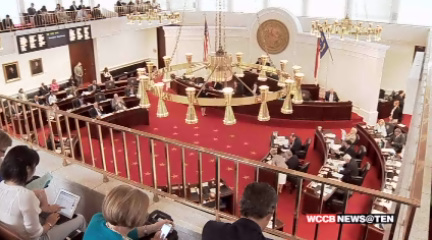 [gtxvideo vid="I8C0MTzy" playlist="" pid="Bbt3TRDe" thumb="http://player.gtxcel.com/thumbs/I8C0MTzy.jpg" vtitle="freedom bill fail"]
 RALEIGH, NC — The controversial Religious Freedom Bill is dead in North Carolina. It would have allowed businesses to deny services to people for religious reasons.  Similar bills passed in other states prompted threats of boycotts from major corporations.
The Charlotte Chamber is against it; the Governor has said it's senseless.  The bill's sponsors won't even talk about it publicly.  It's so controversial some say it makes it legal for businesses to discriminate against the LGBT community.
Two sides may never see eye to eye on this bill.  State House Speaker Tim Moore confirmed Thursday that lawmakers won't debate this question this session: Would the Religious Freedom Act allow businesses to deny services to gays and lesbians?
"Gay rights are obviously at the forefront of a lot of discussion right now, so it comes across as discriminatory," said Charlotte resident Chris Fowler.
"It's their business.  They ultimately have the right to do what they want with their properties," said Charlotte resident Everett Newell.
Voters on the street reflect local business owner attitudes whom WCCB Charlotte spoke to when the legislature introduced the bill.  But Charlotte Chamber of Commerce is relieved legislators decided to kill the bill this session, writing: "It would enable discrimination against individuals in our state.  We believe that it would be harmful in the effort to recruit new jobs and investment."
When Indiana passed a similar bill last month, corporations threatened to boycott bringing business there, forcing lawmakers to amend the bill to protect sexual orientation and gender identity.
"I wouldn't have supported the new bill, so I'm glad it's not going to be considered this go around," added Fowler.
North Carolina Representatives Dan Bishop and Jacqueline Schaffer–both Republicans representing Mecklenburg County–sponsored the bill.  Neither have returned several calls and emails from WCCB Charlotte to answer viewer questions about the legislation.
"That might have been a step in the opposite direction," said Fowler.
"If I want to run my car into a wall, it's my car. Sorry for their wall, but it's still my car," said Newell.
Legislators could introduce the bill again next year.