The Watch with Will Kennedy: Metro Division Ride Along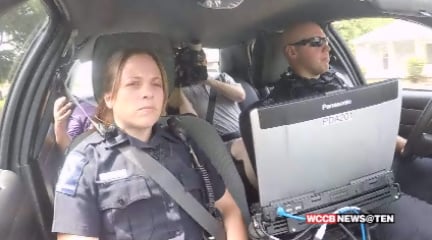 [gtxvideo vid="EBnmlNLx" playlist="" pid="Bbt3TRDe" thumb="http://player.gtxcel.com/thumbs/EBnmlNLx.jpg" vtitle="metro ride along"]
CHARLOTTE, NC — Fighting crime, and fighting to help turn a community around.
The Charlotte-Mecklenburg Police Department, and a host of community partners, are battling on several fronts in the Metro division.
That division includes a number of historic Charlotte neighborhoods like Druid Hills, Seversville, Lakewood, Smallwood, Wesley Heights and Camp Greene.
WCCB Charlotte went on a ride along with two veteran officers for a firsthand look at how they protect and serve.
"This is the Beatties Ford-Lasalle area," said Officer Danny Meyers. "This is our response area 2. This is one of the most violent neighborhoods in Charlotte, if not the country."
Officer Carolynn Pierce has been working Metro division for 15 years. Her partner, Officer Danny Meyers, for 6. After years of struggle, they're seeing a change in the neighborhoods they serve.
"They're still transitioning," said Officer Pierce. "We still have some, you know, the same issues that we've always dealt with, but it's just not nearly on the level of what it used to be."
They took me through Metro's three response areas: 13 square miles of historic and older communities, with a diverse population. It's an area of Charlotte with a proud history, but one that has seen tough times, and more than its share of violent crime.
"Is the bulk of crime we see within the Metro, is it drug related?" I asked.
"I would say a large percentage of it is, yes," said Officer Pierce.
"If not drug related, drug driven," said Officer Meyers.
The men and women of Metro division have their hands full. 79 murders since 2008, with a high of 18 in 2010, and double digits every year since.
"There was a homicide in this parking lot right in front of a police officer once," said Officer Meyers. "That's how wide open it is."
Murder, robbery, assault; too much violent crime. And with an increasing focus on how they do the job…
"Is this the most difficult time to be a police officer that you've ever encountered?" I asked.
"Oh yeah, by far," said Officer Pierce.
"It's incredibly difficult," said Officer Meyers. "I explained to a kindergartner the other day. His mother asked me to explain to him that police weren't just out to kill people. That's incredibly heartbreaking."
Sometimes there's a disconnect, a communication gap, between police and the people they protect and serve. Metro officers are always working to bridge that gap, especially with young people. 
"They're carrying guns and selling drugs," said Officer Pierce. "I mean, I'm sure it happened 10, 15, 20 years ago, but it just seems like it happens a whole lot more now. There's no fear anymore."
But things are turning around. Many Metro neighborhoods have new people moving in, mixing in with those who have always been there. The community wants something more; a different way of life.
"Do something about the prostitution and the crackheads," said one resident to Officers Meyers and Pierce.
"Which house?" asked Officer Meyers.
"The yellow one," replied the resident.
"On the corner up there where they've got the doors and stuff out?" asked Officer Meyers.
Pierce and Meyers feel it's a just handful of people holding the rest back, keeping fear on the streets, committing the bulk of these crimes.
"It's a small percentage of people who may live here, or sometimes just come here and commit the crime," said Officer Pierce.
"You have some people that's going to feel a type of way because maybe they doing the wrong things," said Lakewood neighborhood resident Chaz Bush. "But you have the police that's protecting the people and make sure the community is safe; where we can feel safe and like they're serving their purpose."
Residents like Chaz Bush say it's the relationship between between CMPD's Metro division officers and the community that is driving the change.
"Back in September, I got shot," said Bush. "And I mean I didn't even lay out there a good one minute. They came right to the scene. Made sure I was comfortable. And on a daily basis every week they check with me, make sure I was comfortable. They try to make sure community is getting safer and safer."
"I know for me, that's the only thing that keeps me going," said Officer Pierce. "We have close relationships with people and the community. And I know they appreciate what we're out there doing."
Thursday night on WCCB News at Ten, I'll talk with the people who are working to make a difference in these communities about what it takes to turn things around. 
Watch part two of this special report on YouTube (https://youtu.be/AuK5lsZs0ak)