The Watch with Will Kennedy: Metro Division Partners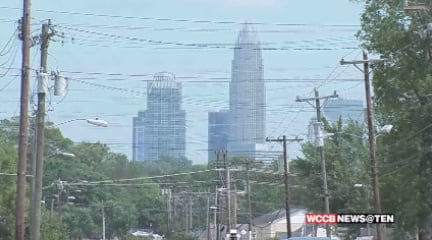 [gtxvideo vid="ogqqoXaY" playlist="" pid="Bbt3TRDe" thumb="http://player.gtxcel.com/thumbs/ogqqoXaY.jpg" vtitle="watch metro 2"]
 CHARLOTTE, NC — Poverty and unemployment. Drugs and crime. The neighborhoods that make up CMPD's Metro division in Northwest Charlotte have been battling these demons for years.
But there is hope on the west side. Police officers, business owners, church members, education leaders, homeowners; people are putting their time, energy and talents to use. And they are dead set on turning things around.
"There's a lot of people that want change, but there's only a few people that are willing to do what it takes to make the change," says CMPD Officer Carolynn Pierce, as we ride through the Metro division.   
The number of people working to make a change in the Northwest Charlotte neighborhoods that make up the Metro division is growing, but more help is needed.
"They need someone in the trenches with them, helping them develop a new way of living," says Dr. Dennis Williams. 
Williams is the pastor at Faith Memorial Baptist Church in the Lakewood neighborhood. He says the biggest challenge is turning around years of negative thinking.
"They have heard negative messages for so long that they really don't believe they can be successful in life," says Dr. Williams. "So they do those other things just to survive."
"If you can go out there and sell drugs and make that quick money, why would you want to go and make, you know, $ 8-9 an hour somewhere and have to actually work?" says Officer Pierce.
The Lakewood neighborhood off Rozzelles Ferry Road has 1,600 residents, with more than half living below the poverty line.
Reducing unemployment remains central to breaking the cycle of poverty and crime, and restoring some social harmony.
"People who are falling through the cracks, who need job training, and they need support for how to transition back into society from being incarcerated," says Dr. Williams. "They need help in terms of just life options."
Officer Carolynn Pierce is a 15-year veteran of the Metro division. She says CMPD also needs the community to help police their own streets.
"You can't accept that people are going to sell drugs on that corner every single day," says Officer Pierce. "You know you've got to get involved, and you have to call us and work with us, because we can't do it by ourselves. We can arrest people, but that's not the long-term solution."
There are many groups partnering with CMPD, and each other, working to bring about change.
"It's very easy for people to go day to day on their jobs and pass right by the inner loop around 277 and not see the poverty that exists and the need that exists," says Denise Watts with Project L.I.F.T.
Watts is the Learning Community Superintendent for Project L.I.F.T., a public-private partnership to help students in disadvantaged communities.
"It's very difficult sometimes to see beyond every day, like just the day to day monotony of every day," says Watts. "But when you begin to expose kids to different opportunities, and different situations, and different experiences, you can broaden that vision."
Other groups like Habitat for Humanity are helping children, by helping the family. Habitat is currently building nine new homes in Lakewood.
"The homes mean stability," says Darryl White with Habitat for Humanity Charlotte. "I mean that's one of the things that's really key to a community is having stability. Having you know where kids have a good, decent safe place to live, and they don't have to move around from one school to the next."
And it's not just the Habitat homes. These neighborhoods need to attract more businesses.
"In neighborhoods like this there's not major grocery stores, so people are always trying to find where can they go to get fresh foods, fruit and vegetables," says White.
But that could be changing. The close proximity to Uptown is attracting new residents, who are building and buying bigger homes, creating a new dynamic.
"There's some tension there, but it's good tension," says Dr. Williams. "And it's pushing and prodding, and saying to the community 'yes we can'. And I'm not going to give up on you, and we don't want you to give up on yourself."
CMPD is hosting its 5th Annual Northwest Community Day June 6th, from 11 am to 3 pm at the Double Oaks Family Outreach and Resource Center on Prince Hall Avenue.