The Watch with Will Kennedy: CMPD Urges Runner Safety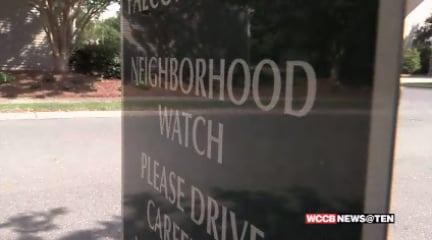 [gtxvideo vid="DgxwEOTC" playlist="" pid="Bbt3TRDe" thumb="http://player.gtxcel.com/thumbs/DgxwEOTC.jpg" vtitle="watch jogger"]
 CHARLOTTE, NC — A woman out jogging in a quiet Charlotte neighborhood, in the middle of the afternoon, stalked and then assaulted at her front door.
WCCB Charlotte first reported the attack earlier this month. Now we've learned CMPD has arrested a suspect. And police want to make sure others are taking steps to protect themselves.
"Shock. Disdain. Concern. Concern for the neighborhood. Concern for the lady that was accosted."
Don Gruno has lived in Highland Creek for 16 years. Three weeks ago, neighbors were shocked when a resident was sexually assaulted. 
The CMPD report says the victim was jogging in broad daylight; two o'clock in the afternoon. She was finishing her run, and turned off Highland Creek Parkway into her neighborhood. The suspect followed her to her front door, where he fondled her. Fortunately, she screamed, and he fled.
"You think you'd be perfectly safe, two o'clock in the afternoon, in a quiet neighborhood like this," said Gruno. "And this generally is a very quiet neighborhood. And for something like that to happen, it was a like a bomb exploding out here."
People were looking over their shoulders, worried about a predator on the loose.
"Due to some good investigative detective work, they were able to identify the suspect, and within two weeks we did arrest a 15-year old juvenile," said CMPD officer Chris Kopp.
This crime, and others like it in the Charlotte area, have CMPD urging runners, walkers and others enjoying the outdoors to take steps to stay safe.
"There's a safe way to do it, and what we're encouraging people is, you know, get a buddy," said Officer Kopp. "Be aware of your surroundings. Know where you're running. And then at the same time if you feel you're being followed, or somebody's watching you, then immediately go to a house that you recognize, or a group of people, an open business."
CMPD says police are being proactive; patrolling neighborhoods, looking to head off these crimes before they happen.
"We're constantly zone checking areas," said Officer Kopp. "We're in and out of neighborhoods. Some neighborhoods even hire off duty police officers to give that extra bit of patrol."
CMPD is not releasing the name of the suspect arrested in this case due to his age. He is charged with forcible fondling.