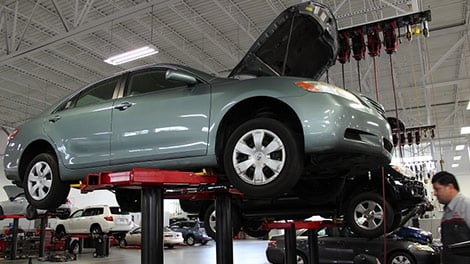 Summer is coming, which means the temperatures are on the rise. Did you know that the heat can actually do quite a number on your car? Don't let it stress you out, though – Toyota of N Charlotte is here with all of the tips you need to protect your new Toyota from the intense sun and scorching temps that come along with the season. Protect your N Charlotte Toyota from summer weather with our helpful hints!
Toyota of N Charlotte can help you shield your car from heat and sun 
There are three main areas to take into consideration when you're planning how to protect your new Toyota near Charlotte from summer heat: under the hood, inside the cabin, and on the exterior. We're giving you tips for each to ensure you keep your ride like-new when the temperatures rise! 
Interior: 
Use a sunshade to protect the dash of your new Toyota near Charlotte – the sun's rays will fade it if you don't cover it! 

Tint your windows to help keep things cooler on the interior, and leave your windows cracked a little when the weather permits to let some of the hot air out of your new Toyota in N Charlotte.

Use a leather conditioner to keep your leather seats supple and protect them from heat damage, and consider investing in seat covers to protect upholstery! 
Exterior: 
Park under shade or cover as often as you can! This will help shield your new Toyota near Charlotte from some of the sun's rays and protect your paint (and your interior, too!). 

Wash your car often! This will help get rid of dirt and debris that can do major damage to your paint job. 

Also protect your new Toyota's paint with a coat of wax! Wax provides a barrier between harmful UV rays and your N Charlotte Toyota's paint job, preventing it from fading or chipping in the sun's heat. 

Check your clear coat – if it's chipped or peeling, have our Toyota Body Shop get you a new one so it offers you the highest degree of protection to your paint! 
Keep your new Toyota running like a champ this summer
Under the hood: 
Make sure you stay on top of your N Charlotte Toyota service – most importantly, car fluid maintenance! This means checking brake fluid, transmission fluid, and coolant… and scheduling routine  oil changes to the engine cool and lubricated! 

Have our techs check your new Toyota's belts and hoses when the weather heats up!

Make sure you stay on top of tire maintenance – higher temps means more heat and friction on your tires, which can wear them faster. Make sure they stay properly inflated and check them routinely for damage. 

Keep an eye on your battery – make sure it's in good physical condition, and that the heat isn't affecting its efficiency or effectiveness when you get rolling in your new Toyota near Charlotte. 
If you think you need to schedule auto service for your new Toyota, why not get started now? We're open and waiting – just swing by 13429 Statesville Road. We're at exit 23 off I-77!