Finding Wilson in the Middle of the Newest Section of I-485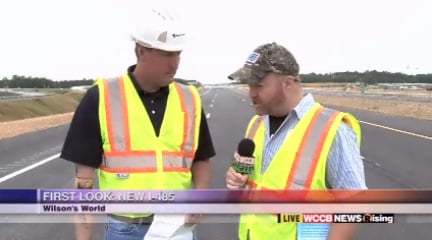 [gtxvideo vid="AwC6LNfR" playlist="" pid="Bbt3TRDe" thumb="http://player.gtxcel.com/thumbs/AwC6LNfR.jpg" vtitle="WW-485 6/4"]
CHARLOTTE, N. C. –  When we first saw Wilson this morning he was dressed as if he was going out on a reunion tour with the Village People.  But, he was getting ready to take us on a ride of the newest and last section of the finally completed I-485 loop. 
Sampson Parker,  Blythe Construction's Project Supervisor, joined Wilson on the new stretch to talk about the project and everything that was involved in getting it completed.  They hopped in the WCCB news truck and took a ride on the new stretch. 
But with Wilson, there is always a back story.  Wilson met Sampson at Charlotte Motor Speedway and found that Sampson is more than a project supervisor…he is also an author and a survivor. Sampson's book "Unthinkable Choice," tells us how, when he was caught in a burning piece of farm equipment, Sampson cut off his right arm at the elbow with a pocket knife in order to save his own life.   Sampson talked with Wilson about the incident and how his faith in God and the love of his wife got him through and how it has changed his life.  To find out more about Sampson Parker and to obtain his book "Unthinkable Choice" go his website www.sampsonparker.com.
The final stretch of I-485 opens between 3pm and 4pm on Friday for through traffic…a week ahead of schedule.
Be sure to follow Wilson on Twitter @WilsonsWorld and online at WilsonsWorld.com.