Father Speaks After Morganton Teen Accused of ISIL Connection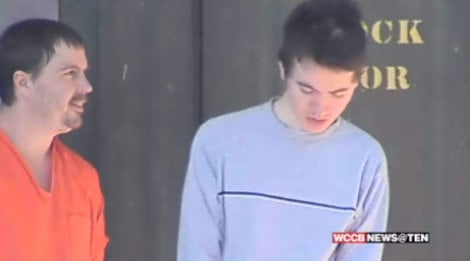 [gtxvideo vid="92LTmgRY" playlist="" pid="Bbt3TRDe" thumb="http://player.gtxcel.com/thumbs/92LTmgRY.jpg" vtitle="isil suspect"]
CHARLOTTE, NC — Court documents reveal a Morganton teenager's father tipped federal agents off to his son's possible terrorist connection.  
A month-long investigation revealed what agents say was Justin Sullivan's plan to kill 1,000 people, as well as his parents.
The documents say the 19-year-old told the FBI he considered himself a Muslim, a Jihadist and a holy soldier for Islam. 
His plan was to pull off the violent attack by Tuesday near his Morganton home in the name of ISIL.
"The warning signs were there," said the teen's stepfather, Rich Sullivan. "That's why, you know, I made some calls."
The FBI is concealing the stepfather's April 911 call in which he told the dispatcher his son was burning religious items and figurines, saying, "I don't know if it's ISIS or what…"
The documents say the teen could be heard in the background complaining that he wasn't only burning religious items, and his father wasn't mentioning the other items he was destroying.
Police did not arrest the teen because the call lead to misdemeanor charges which would call for the family to go to a magistrate to get an arrest warrant.
An undercover FBI agent reached out to Sullivan in June. Investigators say the teen was plotting to buy an AR-15 rifle this past weekend at a Hickory gun show. He wanted to coat bullets with cyanide, set off a gas bomb to finish off the rest of the victims and send a video to ISIL.
"It's deep," said Rich Sullivan. "He got in too deep. They're all over the internet, and that's the problem."
Precisely how former FBI Assistant Director Chris Swecker says ISIL is recruiting teens.
In April, investigators arrested an unnamed York County teen for similar suspected ISIL ties.
"They're angry, and they're looking for something to latch onto," said Swecker. "I mean, they're just one subset of the targets, you know? They're [ISIL] recruiting in the prisons, they're recruiting teenagers, mentally disturbed individuals."
Sullivan's neighbor, Gail Denton watched as police arrested Sullivan a day before he was scheduled to buy the gun.
"If he'd gotten that gun," said Denton, "I may not be sitting here talking to you right now."
Her husband, Don Denton, said he recalls Sullivan practicing shooting targets with a BB gun in the back yard.
"He's 19 years old. That's a little bit extreme. If he was 12, 14 doing that, I could understand," said Don Denton. "He's running around there shooting. That, I was uncomfortable with that."
Court documents say Sullivan asked the undercover agent to kill his parents.
He also asked the undercover agent to make homemade gun silencers. The agent sent him one in the mail. Once it was delivered to his home Friday, agents raided the house. 
"I can never forgive him for what he planned or condone it," said Rich Sullivan. "I'm a retired Marine, but we have to love him.'
They arrested the teen for attempting to provide material support to terrorism, receipt of a silencer with intent to commit a felony and possession of unregulated silencer unidentified by a serial number.
If convicted, Sullivan faces up to 40 years in prison and a $500,000 fine.