State, Local Leaders Discuss Charlotte Church Arson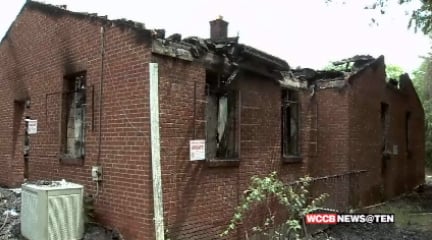 [gtxvideo vid="lv5KWGHJ" playlist="" pid="Bbt3TRDe" thumb="http://player.gtxcel.com/thumbs/lv5KWGHJ.jpg" vtitle="burned church"]
CHARLOTTE, NC — Police are still questioning people to find out why someone burnt Charlotte's Briar Creek Baptist Church last Wednesday. 
It's one of at least six church fires in the south this month. Investigators have labeled three arson. Thursday, state and local leaders met all around the city to discuss the Charlotte case.
Charred church walls light up unanswered questions. People now wonder if it was a specific attack.
"I don't know," said Sr. Pastor Mannix Kinsey. "I'm so thankful the whole entire church did not burn down." 
Kinsey relived the moments he saw the flames as he showed State Rep. Alma Adams the destruction.
"To come into the sacred house of God and have something like this happen, it's very disturbing," said Rep. Adams.
This church, she says, is primarily African American, although the pastor says all races attend.
"It does appear to me that we have to begin as a country to sit down together and have a serious conversation about race, about religion," said Rep. Adams.
In Uptown, nearly 100 gathered with the NAACP to discuss the Briar Creek arson and how to better secure churches.
Charlotte chapter President Minister Corine Mack said, "For folks to go and burn down the house of God, a place of worship, of refuge, of peace, where people extend nothing but love to you, gives me the sense that these people are evil and wicked," said Mack.
Fire investigators point out only 16 percent of church fires are arson. Records show, around the country, there was an average of three per week from 2007 to 2011.
CMPD's arson taskforce has questioned 15 people since the Briar Creek fire. The evidence does not point to a hate crime. The FBI is prepared to file federal charges if that is the case.
"Whether we call it a hate crime, it is a hateful act," said Rep. Adams. "It is mean spirited."
Rep. Adams plans to search for a state grant that could help the church rebuild.
The pastor plans for police protection at services until CMPD finds out what motivated the fire.