Ferrell Family: We Will Continue to Fight for Jonathan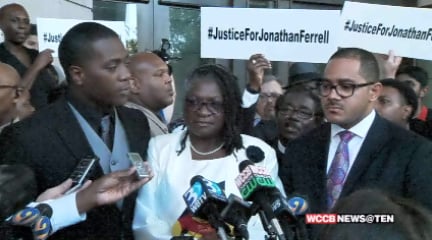 CHARLOTTE, NC — It has been an emotional trial for both families involved, and neither side is enjoying much peace of mind or closure.  WCCB Charlotte's Terrance Bates has more on how Jonathan Ferrell's mother and brother are trying to move forward.
"We are going to continue to fight for Jonathan, justice for Jonathan," said Jonathan Ferrell's mother Georgia.
Words of a mother determined to see the man who killed her son convicted.
"We've got to stop them from killing our children," she said.
"As my brother is dead in the grave right now, I am defending him, I am walking for him, I am fighting for him.  Day in and day out, trying to get justice for him," said Jonathan's brother Willie Ferrell.
A theme the family's supporters are backing.  Their attorney, using it as a rallying cry in the court of public opinion.
"We need you to petition the attorney general and keep the pressure on them to retry this case," said Ferrell family attorney Christopher Chestnut.
While it's uncertain how the state will proceed with no clear verdict, Chestnut says: "What I do know is that the jury didn't see all the evidence.  I think if they had, the vote would have been different."
The death of a son and brother brings to light an even more pressing message.
"He was unarmed, and there are a lot of unarmed men of every color walking around the city of Charlotte.  If this behavior is tolerated, there may be a lot of other victims," said Chestnut.
So far the Ferrell family says there has been no comment from the attorney general's office on whether this case will be retried.  The family says it's not worried, because God will ensure justice is served.