CMPD Chief Talks Kerrick Trial and Department Morale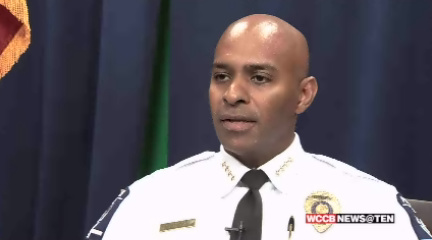 CHARLOTTE, NC —  A police department trying to mend a rift within, while looking to build a stronger bond with the community it serves.
I had the chance to sit down with CMPD Chief Kerr Putney to talk about the Kerrick trial, its impact on his department and what lies ahead. 
"As a CMPD family, it's okay to disagree," says Chief Kerr Putney. "But we also have to be able to put those opinions aside and be professionals, and insure the safety of the city; and they do that extremely well."
A difficult time. A city divided.
CMPD Chief Kerr Putney took the reigns of the department just days before the voluntary manslaughter trial of officer Wes Kerrick.
The trial put officers and leadership on the witness stand, and sent ripples through the department.  
"We need time to heal, just like this community," says Putney. "There are differences of opinion inside the organization, just like there are in the city. So we just need to take time to heal, assess and chart a path forward."  
The quick decision by CMPD leadership, including then Deputy Chief Putney, to charge Officer Kerrick for the 2013 shooting death of Jonathan Ferrell rubbed some the wrong way.
"A lot of conversation going on internally," says Chief Putney. "A lot of people want the opportunity to be heard, just like anybody else. We're allowing for that. I welcome it. It makes us stronger. It makes us better."
Putney praises his advisory board for being honest in assessing his work. He also praises the men and women of CMPD for hours of preparation, and the way they handled protests that broke out when a mistrial was declared.
The chief says he is moving forward with a focus on training: an area that was criticized and questioned during the trial.
"We have a training staff that is onboard with always looking to see how we can move the needle for improvement and better serve this community," says Putney. "And that's exactly how we're going to move forward."
A jury was deadlocked on a verdict in the Kerrick trial. Jurors were split 8-4 to acquit the CMPD officer on those voluntary manslaughter charges.