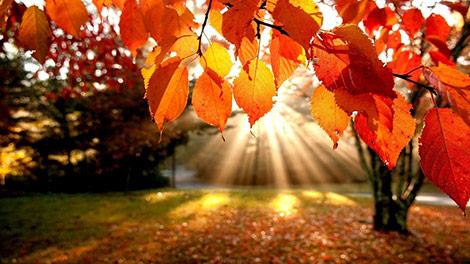 Are you ready for fall? It's definitely on its way – August is over and September is here! Changing seasons means shorter days, different weather, and different stressors on your car. Our Charlotte Toyota Service Center is here to help you prep your car for the fall with auto service and tips to get you on your way as the leaves change – let's get started! 
Prep your car for shorter days and wetter weather with Charlotte Toyota Service! 
Check your headlights, taillights, and turn signals. Fall means shorter days, which means your commute very well could be taking place during the dark! Make sure all lights on your vehicle are in working order at our Charlotte Toyota Service Center so other drivers can see you and your movements clearly. You might also want to schedule Charlotte headlight restoration if your headlights are cloudy or dull! 
Talk to our Toyota Service techs about your coolant! You may want to switch coolant as the weather cools off, so let our Charlotte Toyota Service Center walk you through what will work best for you, your vehicle, and its performance needs. They can fill your coolant tank and have you back on the road in no time! 
Schedule Charlotte tire service! Fall means wetter weather and dead leaves on the road, which can lead to slippery surfaces. Make sure your tires have enough tread to provide the proper traction, and ensure that they're properly inflated for maximum performance (and better fuel efficiency)! Also be sure that they're properly aligned and have been recently rotated. Our Toyota Service techs can take care of ALL tire service for you. 
Take a peek at your windshield wipers! Rain is prevalent in the fall, and snow will be here before you know it. Make sure your windshield wipers are up to the job of keeping your windshield clear and streak-free. Our Charlotte Toyota Service techs can help you pick the right set of wipers at our Toyota Parts Store AND install them for you! 
Brake service can keep you safe on the roads this fall and winter! 
Schedule Charlotte Toyota Service for your car battery! Colder temps and weather fluctuations can take a toll on its performance capabilities, and no one likes to be stuck on the side of the road with a dead car. Have our techs check your battery to make sure it's in good condition and isn't going to conk out on you any time soon; replace it if needed to ensure your safety and efficiency! 
Make sure your brakes are working in top-notch condition. As noted, fall and DEFINITELY winter bring slippery conditions, so you want your brakes to be able to bring you to a fast, complete, and safe stop. Charlotte brake service will check brake pads, fluid, lines, and the rest of your brake system to give you peace of mind! 
Schedule your fall Toyota Service today at Toyota of N Charlotte – we're just off I-77 at exit 23 and you can call us at (888) 378-1214 today to get your appointment. Don't forget to ask about our Toyota Service coupons!