The Get: Dale Earnhardt, Jr.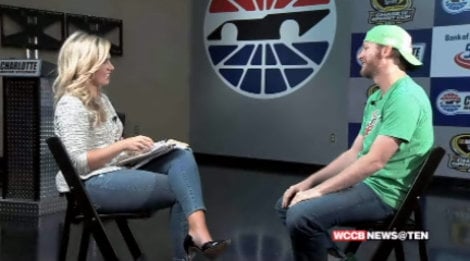 CONCORD, N.C. – He is NASCAR royalty. Part of the Earnhardt dynasty. The fans' favorite driver. But Dale Earnhardt, Junior describes himself as a normal guy; a guy who says he still gets nervous. He tells WCCB News @ Ten anchor Morgan Fogarty, "You don't wanna lose. You don't wanna disappoint your fans and your friends that you look up to and wanna impress, whether it's your dad or your crew chief or whatever. I have those fears when I go out to qualify, and I want to qualify as good as we should, because I got all these people I don't want to let down, and I think that's perfectly natural to feel that way."
Fogarty asked Earnhardt, "What do you think that your dad would think or say to 40-year-old Dale Jr?" He replied, "He was always, he would probably be the same as he always was. He was always, there was a lotta good, there was a lotta bad, he always pointed out the bad. He rarely patted you on the back for the good, but the times he did were the best times. There were a lot of things I think he would be proud of. But he would also take that, I think he'd be proud; he thought it was really cool to own land, to take a piece of property and sculpt it and turn it into something better. And do things that were really neat and unique. Work hard on it. I've done that with the property I own and I live on, and I feel very proud of it and we have done a lot of neat, fun things out there. And he would look at that and say, 'Man, that's great, you done awesome, you know what I woulda done different? I woulda done boom, boom, boom.' And he would go down the line like that and he would do it. I miss that. I miss being critiqued. I always did say he had the most common sense of anyone I knew and he always knew the best way to do something. And I really miss that. Miss having my 'easy button' to mash. 'What do I do here? I don't know what to do.' And he would just tell ya. 'Alright,' lay it out like this, and it was perfect."
Earnhardt says his surprise 40th birthday party, organized by his girlfriend Amy Reimann, was also perfect and perhaps, a pivotal moment for the couple. Earnhardt says, "It really opened my eyes I think the past week to just how genuine her feelings are, and that was really nice." He continues with a smile, "My days are better when we're together. But for to see exactly how much she put into that and how important it was to her for me, just really sent it home. Made me understand. If I had any doubts whatsoever, they're gone, yeah."
Earnhardt joined Twitter less than a year ago and with 789,000 followers, is one of NASCAR's most interactive stars. "'Cause that was missing from our sport. Years ago, 10 years ago, we'd be out signing autographs with people for two hours at Walmart or something, having that communication, instant back and forth, and we don't do that as much anymore. We don't have that, you know, one-on-one real interaction, so Twitter is a great place for that," he says.
Fogarty brought along a fan question and it was one that made Earnhardt pause. She asked, "Mark wants to know, and this is a tough one, would you trade some of your popularity for some more success?" Earnhardt replied, "Hmm. That is a good question. I think that going out and winning races is most important. That's the focal point of every weekend: to win. That's the top of the board. I like to do it with class and dignity and try to represent myself and the sport well. And there's another great quote by the way, that I heard not too long ago that said long after the game is played, they will forget the score but they'll never forget how you played the game. So what that means to me is that people will remember the accomplishments, but they'll remember you more so how you did it. Were you respectful, did people appreciate the person you were? So I value not popularity, but I value being appreciated for being a good person. I value people looking at me and saying you know, 'That guy is a good guy, he's honest, I like him, I trust him.' That's more important to me than trophies or money."
When asked what message Earnhardt has for his fans, he replied, "I think we're peaking as far as my career. I think I'm as good as I've ever been and I've got a great opportunity with a great team, so the future is bright. Let's get after it!"
This interview was originally aired in October, 2014.