Queen Charlotte's 1st Annual Ball
CHARLOTTE, N.C. — Socialite Charlotte is hosting Queen Charlotte's 1st Annual Ball May 29, 2021. Socialite Charlotte founder, Levida Rosa talked with Lauren about the event and what guests can expect. Lauren also spoke to Elijah Kell, the artist being showcased at the event. His work is currently displaying at The Galleries at Eight Eleven on 811 Providence Rd. Charlotte, NC 28207.
We also featured models with the help of Charlotte fashion icon, Berhan Nebioglu, to showcase couture designs from Luis Machicao couture collection.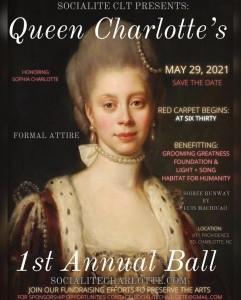 Amidst recent conflict of interest between Charlotte creatives and politicians, there is one organization seeking to bridge that gap in a more formal fashion they have titled Queen Charlotte's 1st Annual Ball. "Come one; come all" says 28 year old event organizer and founder of Socialite Charlotte. Levida Johnson, is a full time mother of one, boutique owner and currently pursuing a career in NC real estate. "As a former student of Northwest school of the arts, and former intern of Charlotte Seen; being an advocate for a cause such as this just made sense". We want artists and those who advocate for us to feel appreciated. Our niche being able to tie non-traditional fashion shows together with acts of philanthropy.
After graduation and becoming Miss Freshman at Johnson C. Smith University 2011-12, Ms. Johnson knows all about the crowning of excellence and its impact on the community surrounding it. "Being miss freshman meant being a representative of my class" and wants to shed that same light on Sophia Charlotte, an African-American Queen of England, the face behind our beloved community. Growing up in Charlotte, you heard about the corporate strides, the Carolina Panthers even the Charlotte checkers and you never truly get the spirit that's behind all of it. So why are we called the Queen City? Well, in 1768 loyalists of Mecklenburg attempted to gain favor of her husband King George III, and viola! the Queen City was born.
It is a legacy and a history worth exploring which is why each guest will receive Soirée bags with treasure such as the  Independence Declaration of Mecklenburg, which occurred in 1775 and much more! Socialite Charlotte saw a good fit for these two causes when learned that Queen Charlotte patronized the arts and had a strong sense of advocacy to do so. She had a love of music, art and botany alike, therefore we have chosen two organizations that will benefit from the Queen's ball; the Grooming greatness foundation and Light + Song. Both strive to groom through exposure to arts otherwise inaccessible with the lingering myth of being a "starving artist" and we stand behind their cause.
     Socialite Charlotte has a unique mission to stimulate revenue in the arts community through events that spark conversation and reveal hidden gems along the way; awarding non-profit organizations with the Socialite Humanitarian Award. The very first recipients being Habitat for Humanity back in 2016. Charlotte needs your presence and purpose as we sip, see and soirée at The Galleries at Eight Eleven on 811 Providence Rd. Charlotte, NC 28207.
     Guests can expect light refreshments, a red carpet entry leading up to an awards ceremony and a Soirée Runway! Featuring Luis Machicao. Through-out the evening we highly encourage guests to purchase artwork and exchange contact information with fellow philanthropists in attendance so that the creative flow keeps flowing thereafter. Dress code is formal cocktail attire not excluding ball gowns, tuxedos and fine military attire.