The Ferguson Effect: How Police Controversies Could Impact CMPD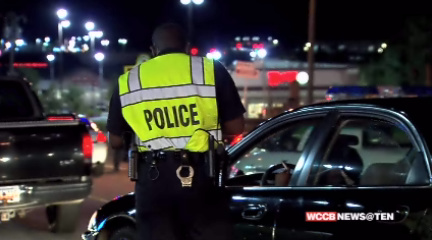 [gtxvideo vid="lPK1JLcH" playlist="" pid="Bbt3TRDe" thumb="http://player.gtxcel.com/thumbs/lPK1JLcH.jpg" vtitle="cmpd"]
CHARLOTTE, N.C. – We started with this question: have the events in Ferguson, New York and even right here in Charlotte impacted the number of arrests, citations and warnings police here are making and issuing? In New York City, a police "slow down" was evident in a dramatic decline in summonses and arrests in the weeks following the December daytime assassination of two officers. Some said the slowdown was a reasonable response to those killings–and because of protests and broken morale.
So WCCB Charlotte requested arrest, citation and verbal warning numbers from CMPD. In August 2014, the department made 2,059 arrests, issued 7,190 citations and gave 7,466 verbal warnings. It was the same month Officer Darren Wilson shot and killed Michael Brown in Ferguson, Missouri.
The next month, CMPD arrest numbers were down, at 1,824. Citations were virtually the same. Verbal warnings were down slightly. October saw a return to more "normal" numbers. 
In November, a grand jury decided against indicting Officer Wilson and riots erupted in Ferguson.  Shock waves were felt across the country. And perhaps within the ranks of CMPD. Arrest numbers dropped by more than 400. Citation numbers by nearly 1,600, and verbal warnings were down by almost 1,400. 
December arrests inched up by 23 (hardly enough to match October's stats). There was a continued decrease in verbal warnings, down another 360. And citations dropped again, by nearly 1,200. 
CMPD tells WCCB Charlotte the citations for November and December are incomplete and won't be available 'til March. The decline in arrests and verbal warnings still beg the question: are CMPD officers concerned about doing their work? Or does this slow down perhaps reveal self-restraint from officers? A CMPD spokesman asked WCCB Charlotte's Morgan Fogarty to call him to discuss her questions about the numbers. When she replied that she would as long as she could record our conversation, he stopped replying.
"I don't think you'll ever hear anybody from the CMPD come out and say 'yes, we've got a semi-blue out, our officers aren't doing the discretionary stops, the discretionary enforcement.' I don't think they'll ever admit that," says George Laughrun. He is a well-respected defense attorney in Charlotte. He is currently representing CMPD Officer Wes Kerrick in his upcoming manslaughter trial. Kerrick was charged by CMPD virtually immediately in the shooting death of Jonathan Ferrell in September 2013. 
Laughrun says this of the impact high-profile confrontations with police have on a department: "I think morale-wise, morale is probably pretty down, it's probably been down for a while now. Because working officers in the field don't feel like they have support, like we talked about, from their peers, from their command staff, from chain of command review." 
There are some calls not left to officer discretion, including murders, rapes, robberies. Officers can use their discretion for minor criminal offenses, traffic violations, etc. "Most of the research says about 66% of the calls that are responded to by officers are officer-initiated," says Dr. Vivian Lord. She teaches courses about police issues at UNC Charlotte. She is also a psychologist. "There's so many variables when it comes to crime and officers' response. To point our finger at one thing, it's just not that simple," says Lord.
She does say it's reasonable to presume national events are influencing how officers think, feel and perhaps respond. "Officers really depend on citizens to recognize their legitimacy," she says. Lord continues, "They're gonna be concerned about how safe are they gonna be? Are the bystanders going to support the action we're getting ready to take or are they gonna turn on us?" 
So why should you care whether police are making more or less discretionary arrests, citations and warnings? Laughrun says it's simple. He says, "I think for the public it's scary because of lot of these discretionary 'I'm gonna add myself to a call' type stops result in bad guys getting caught." He also says, "I think they wanna be involved with other officers. They wanna make a difference. but I think right now, it's tough to be a police officer right now." 
New numbers show the slowdown within NYPD seems to be over there's recently been an uptick. WCCB Charlotte will request CMPD's numbers for February as soon as the month is over.