Charlotte Business Owners Speak Out For, Against 'Religious Freedom' Bill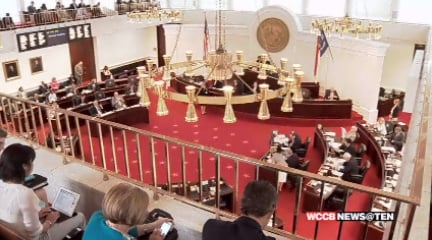 [gtxvideo vid="95xEZfbI" playlist="" pid="Bbt3TRDe" thumb="http://player.gtxcel.com/thumbs/95xEZfbI.jpg" vtitle="rfa fallout"]
CHARLOTTE, NC – Major backlash on Monday over 'Religious Freedom' legislation circulating in several states, including in North Carolina.
Governor Pat McCrory spoke out against the proposed legislation, which would allow businesses to deny service based on religious beliefs. 
Governor Pat McCrory criticized the legislation on Charlotte Talks with Mike Collins on WFAE Radio.
"I think some of the items in the so-called Religious Freedom Bill also make no sense and I've stated that for the record," said McCrory.
McCrory is speaking out against a bill that would allow businesses to deny service based on religious preferences.
McCrory says he will not sign the Religious Freedom Restoration Act, as it is written.
Former Charlotte City Council member and business owner, Billy Maddalon, agrees with the governor and says the bill is "un-American."
"For the legislature to be engaged in that kind of craziness just strikes me as a waste of time and money," said Maddalon.
The bill is sponsored by State Representatives Dan Bishop and Jacqueline Michelle Schaffer–both Republicans representing Mecklenburg County.
If signed into the law, the Religious Freedom Restoration Act would allow businesses or organizations to deny service and turn people away in the name of religious freedom.
"What is the problem they're trying to solve? I haven't see it up to this point in time," said McCrory.
Opponents say the bill opens the door to discrimination. 
The Benham brothers, who own a Charlotte-based real estate company, disagree. 
"There should never be discrimination against an individual, but when someone comes to you with an idea, or a message, or event or behavior that's against your deeply held religious convictions, you have the right in America to say 'no' I can't support that or endorse it," said David Benham.
The fallout continues over Indiana's new religious freedom law.
"Fix this law. Either repeal it or pass a law that protects all who live work and visit Indiana. Do so immediately," said Indianapolis Mayor Greg Ballard. 
In Arkansas, protesters are demanding the governor veto a similar bill.
In North Carolina, both sides have their eyes on state legislators.
"The governor can say one thing, but the people of the state can say another so we have to continue to push this forward," said Benham.
"The governor hasn't always proven to be on the same page as his legislators, so it's not a guarantee the legislature won't pass it," said Maddalon.
WCCB Charlotte reporter, Audrina Bigos, called and e-mailed both of the state representatives who sponsored the bill in North Carolina. Neither Bishop or Schaffer has returned e-mails or phone calls.