Controversy Resurfaces with Ex-Sheriff's Prison Release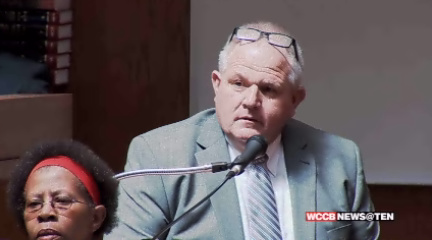 [gtxvideo vid="B6g8mKlW" playlist="" pid="Bbt3TRDe" thumb="http://player.gtxcel.com/thumbs/B6g8mKlW.jpg" vtitle="chesterfield sheriff"]
CHESTERFIELD COUNTY, SC — Former Chesterfield County Sheriff Sam Parker has finished his prison sentence after a corruption scandal brought his ten year reign to a halt last year.
Monday marked the first full week of freedom for Parker. He is out of prison early due to good behavior, and the community is still divided. 
"Most of the people I talk to aren't over it," said Hubert Teal.
The last time anyone heard from Parker he was on the witness stand. He denied misconduct in office. Prosecutors accused him of giving weapons obtained for the Sheriff's Department to individuals who weren't trained or sworn in.
During the trial, Parker also answered allegations that he and his staff allowed inmates privileges including spending nights away from jail, trips to restaurants, and access to vehicles.
"You took them to dinner, you let them out in the community at Halloween parties?  You let them go to Christmas parties?" asked the prosecutor.
"You left them alone at the armory because you weren't worried about them escaping or doing anything harmful, right?"  
"Correct, yes ma'am," answered Parker from the witness stand.
A jury convicted him of three counts of furnishing contraband to inmates and two counts of embezzling public funds under $10,000.
"That's bad business," said Tim Johnson. "You put your self in that predicament, and you're supposed to be our County Sheriff. I don't think that's right." 
Facing up to 15 years in prison, the judge sentenced Parker to two.  He got out a year early due to good behavior.
His three-year probation period began Thursday. 
"If it had been anybody else beside someone in public office, he would have spent longer, longer time in jail," said Hubert Teal.
No one answered the door at Parker's last listed address Monday.
His probation officer is stationed in Darlington County due to the close working relationship the former Sheriff had with officers in Chesterfield. 
"People make mistakes," said Dearron Merriman. "I ain't going to hold a grudge about it, you know?"
 While some are moving on, others: "They feel like they can't trust nobody," said Johnson.
Parker's former Deputies remain silent since his release.