Carowinds GM: Fury 325 Has Sophisticated Control System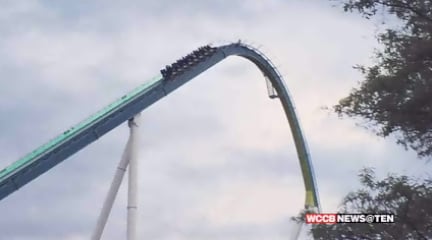 [gtxvideo vid="c629zRLm" playlist="" pid="Bbt3TRDe" thumb="http://player.gtxcel.com/thumbs/c629zRLm.jpg" vtitle="fury stops"]
CHARLOTTE, NC — Carowinds' newest attraction, Fury 325, is getting some unwanted attention.  The ride came to an unscheduled stop for about 15 minutes during an initial ascent Saturday night.  It's the second time recently the coaster has come to a halt.  
Only WCCB Charlotte was able to speak with the General Manager at Carowinds.  He says the coaster has a sophisticated control system that manages itself.  It has safety mechanisms built in, much like your car's "check engine" light.  So if the ride senses a potential problem, it is programmed to stop itself.
"I wouldn't say it's unusual.  I mean, the ride system is very complex and if it has a 'check engine light', it will stop the ride for us to take a look," said General Manager Michael Fehnel.  "There are only a certain number of stops, we call them 'blocks', you know, where this could occur."
So the ride wouldn't stop if you were upside-down, for example.  Fehnel tells WCCB he rode Fury 325 for himself four times Monday with no problems.  He says the rides are inspected every day by park staff, and at the beginning of every season by the Department of Labor.
No one has been injured in Fury's safety stops.