Charlotte Woman May Stay In Nepal To Help Victims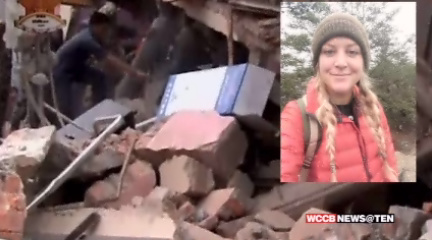 [gtxvideo vid="xSRpqerq" playlist="" pid="Bbt3TRDe" thumb="http://player.gtxcel.com/thumbs/xSRpqerq.jpg" vtitle="clt woman nepal"]
CHARLOTTE, NC – The death toll from the 7.8 magnitude earthquake in Nepal is now more than 4,000.
Emergency aid flights to the devastated country began landing on Monday night.
Searchers continue to look for survivors in the ruble from Saturday's quake and the series of aftershocks have rattled residents who are spending another night sleeping outside.
The U.S. is committing $10 million and 45 tons of aid to the relief efforts.
Meantime, hundreds of climbers are staying put at a Mount Everest base camp where an avalanche after the quake killed at least 17 people.
A Charlotte woman who survived the avalanche is considering staying in Kathmandu to help with relief efforts.  
Ashleigh Stumler, 27, is scheduled to leave Nepal on Wednesday to head to Charlotte, but her parents say there is a chance she could stay longer. 
Stumler, who lives in Plaza Midwood, is in the center of the devastation helping out in hospitals and wherever she can.
"I really just wish she would get to the Embassy and find her way out," said Ashleigh's dad Greg Stumler.
Words from a dad who wants his daughter back home in Charlotte.
"She's not safe… we have to get her out of there. My mind is saying, 'I got to get my daughter out of there,'" said Stumler.
But his wife Beverly knows, for their daughter Ashleigh, leaving the devastation in Nepal may not be that easy.
"She's not the one to be able to turn her back and just try to hop on a plane and get out as soon as possible. She's going to try and roll up her sleeves and get in there and do what she possibly can," said Beverly Stumler. 
Ashleigh is helping victims in Kathmandu, but that's not what she expected to be doing when she left Charlotte on April 11 to climb Mount Everest.
While on the mountain, Ashleigh felt the ground shaking from the 7.8 magnitude earthquake.
"I ran through all the bad things that could happen, and this wasn't on the list," said Stumler.
Ashley's dad says she's blessed to be alive, but she's not safe until she's home. 
Holding back tears, he said Ashley was protected and somehow she was in the right place at the right time when devastation hit.