Special Report: New Apps Hide Explicit Photos in Plain Sight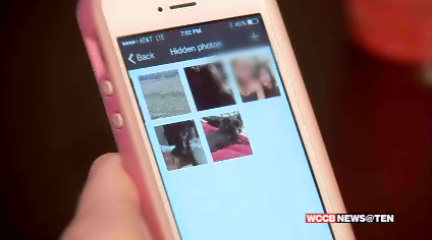 [gtxvideo vid="i2FdcFFD" playlist="" pid="Bbt3TRDe" thumb="http://player.gtxcel.com/thumbs/i2FdcFFD.jpg" vtitle="hidden photos"]
 CHARLOTTE, NC — Children are hiding nude photos on their smartphones and tablets.  Even parents who have their children's passwords and regularly check their phones may not be able to find the explicit material.
One nude snapshot, one button, police say are making up a culture of sex, camera phones and blackmail that's criminalizing a generation of young people.  And they know how to hide it.
"Sorry, I didn't know," said parent Stephanie Livingston.  "It's not just the trouble, it's something, every decision you make has an effect."
Scandal surfaced recently in the Cleveland County School District where Livingston sends her daughter.  Several sixth graders at Burns Middle School face felony child pornography charges after deputies say they sent text messages containing a classmate's sexual video.
"She says, 'Mom, it really is worse than what adults think it is,'" added Livingston.
"Holy crap," said Cleveland County student Klarissa Meeks.  "I see this almost every day in my class."
Studies show 70 percent hide it.  We uncovered two ways they can.
An app like "Private Photo (Calculator%)" looks like a calculator, but a password unmasks a private photo gallery.  Some of these apps, like "Keep Safe Private Photo Vault", make it obvious that a child could be hiding something.  The child might readily give up the password revealing innocent photos.  But this app has a second hidden layer, where a child could hide inappropriate pictures.
"Once you find out something like this, you have to take action," said Livingston.  "You have to educate yourself."
One way to check up on your kid is to search for double apps on their phones, like the calculator.  You don't normally use two.  So the one that doesn't come with the phone could hide explicit material.
The only way to spot a downloaded app: press the icon, and the phone will let you delete the one that didn't come standard.
"There's always going to be a new app," said Spc. Agent Alan Flora of the State Bureau of Investigation.
Assistant Special Agent Alan Flora says North Carolina's State Bureau of Investigation works cases of children taking and sending child pornography daily.
"What we're discovering is children are self-exploiting," said Flora. "They're producing the images themselves.  So, in a sense, they're victimizing themselves."
In the Cleveland County case, deputies say the Burns Middle School sixth graders were pressuring the classmate for more sexual images.  Three months before that, police began investigating a Charlotte-Mecklenburg middle schooler after uncovering 75 nude photos posted online of girls across the district.
"Have that conversation with your kids to make sure they understand you could be charged legally," said Spc. Agent Flora.
Klarissa was in the seventh grade the first time a boy asked her for a nude photo.  She's a senior now.
"I felt like it's either I do it, and it could get leaked out if he gets mad at me or whatever, or I don't do it, and he never talks to me again, and that's fine.  I'd rather lose someone than be put under the spotlight," said Meeks.
But Klarissa says many of her classmates crack under the possibility of blackmail.  But sending that photo could mean sex offender status if the court tries your child as an adult.
"This is not petty.  It's not small.  If it's not a fear, it's because they're not educated," said Livingston.
Parents could have to dig to find the evidence.