Controversy Growing Around Segregation Photos Shown to Kindergarten Class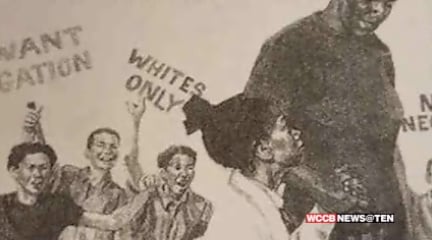 [gtxvideo vid="AUtJQ7NM" playlist="" pid="Bbt3TRDe" thumb="http://player.gtxcel.com/thumbs/AUtJQ7NM.jpg" vtitle="segregation lesson"]
RICHFIELD, NC — Controversy is growing around a kindergarten school assignment at Richfield Elementary. It centers around four photos showing segregation. 
The assignment asks children to look at people in the photos and decide how they feel: happy, angry, sad, or lonely. One shows a white child holding a sign that says "No Coloreds". Another shows a man holding up a sign that says "Whites Only."
Is it too soon for Kindergartners?  The Richfield School guidance counselor didn't think so. 
"Kindergarten is a little too young," said Doug Buckwell. "Give them a chance to get in there and feel it out."
Buckwell's little girl is five. Then, there's Clara Cole. She teaches Pre-K. When she was her students' ages, it wasn't just a photo. Segregation was reality.
"Children need to be taught a lot of things earlier," said Cole. "Maybe they would realize or comprehend what's going on in our society."
Richfield Elementary parents want to know the purpose of the pictures.
One viewer emailed WCCB Charlotte saying, " I AM DISGUSTED that CHILDREN THE AGE OF SIX are being exposed to such degrading material. Our generation has evolved and moved past the prejudices of our elders…Or at least I had HOPED WE HAD…Can you imagine how the children can get negative influence being exposed to these?"
Turns out, the word of the month was "Courage", and the lesson was centered around Ruby Bridges, the first black Kindergartner at a once all white school in New Orleans in 1960.
"This one's pretty smart," said Buckwell pointing at his little girl. "So, she could probably understand it.. I think it's still a little too young, should be something parents at home probably should talk about." 
Some wonder if it doesn't taint children who never saw differences in color.
"I think it's needed, maybe if they were a little older, maybe first or second or third grade," said Cole. 
The school district says if a parent has a complaint about the lesson, they can send a written request for reconsideration of instructional materials. The procedures for review will be followed as outlined in School Board Policy #3190.
At this time, the principal has not received such a request.